---
Features
Former EPA administrator offers insights on energy and the economy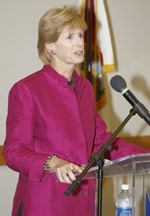 Christine Todd Whitman, the former New Jersey governor and Environmental Protection Agency (EPA) administrator
Christine Todd Whitman, the former New Jersey governor and Environmental Protection Agency (EPA) administrator, visited MDC's Homestead Campus recently to discuss the benefits of nuclear energy, its impact on air quality and the economy.
Whitman's seminar was well-attended by students and members of the Homestead community. It was presented by the School of Computer and Engineering Technologies, which is leading the way in preparing skilled workers for the nuclear energy industry with its trailblazing Nuclear Apprentice Maintenance Training program, offered in conjunction with FPL.
While serving two years as EPA administrator, Whitman promoted common-sense environmental improvements such as watershed-based water protection policies and championed regulations requiring non-road diesel engines to reduce sulfur emissions by more than 95 percent.
She served seven years as governor of New Jersey, the first woman elected to that position in the state's history. As governor, Whitman earned praise from both Republicans and Democrats for her commitment to preserve a considerable portion of state land as permanent green space.  
Currently, she is the president of Whitman Strategy Group, a consulting firm specializing in environmental projects and is co-chair of the CASEnergy Coalition, a grassroots organization that focuses on nuclear energy. 
More Features Articles