---
Cultural Spotlight
Learning the ropes with Professor Secada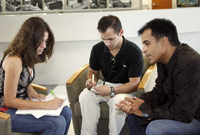 Jon Secada, visiting professor of music, speaks to students about making music.
Grammy Award-winning singer Jon Secada gave MDC students and aspiring musicians a crash course in music business on three recent visits to Kendall Campus.
The Miami native served as a guest judge during a master class audition in which students lobbied for a chance to participate in the second installment of Secada's music session. Secada also brought along some of his industry friends to teach a master class on music performance, giving instruction in vocals, stage presence and more.
Then one student performed with Secada at a Kendall Campus concert.
"Kendall Campus is fortunate to have an outstanding music program and Jon Secada," said Campus President Dr. Gregory Gray. "He has brought a renewed sense of energy and excitement in his role as visiting professor."
Secada was a voice and humanities professor in the music department at MDC's North Campus from 1986-1991. He was skyrocketed to international fame in 1992 when he released his self-titled album, Jon Secada. The album earned him his first Grammy Award for best Latin pop album. His music has appealed to a broad audience selling more than 20 million albums worldwide. Secada has also written songs for some of the top artists in the music industry, including Ricky Martin, Jennifer López, Gloria Estefan and Mandy Moore.
Two years ago, Secada signed an agreement with MDC to join the teaching staff as a visiting professor of music. He's donated his fee to the MDC Foundation to support student scholarships.
All events, with the exception of the master class audition, were free and open to the public.
"Students say they are thrilled with Mr. Secada," Gray said. "He will continue his efforts with a Kendall Campus American Idol. I believe the campus will be excited by this effort and watching our students."
— Staff Report
More Cultural Spotlight Articles