COVERSTORY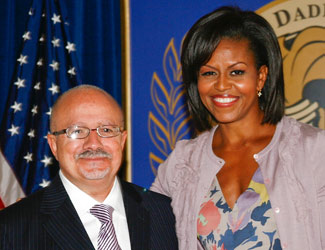 First Lady Michelle Obama praised Florida educators and students for their commitment to service-learning and engaged scholarship.
In early October, MDC President Dr. Eduardo J. Padrón (right) was the guest of Vice President Joe Biden and his wife, Dr. Jill Biden, at their residence on the grounds of the United States Naval Observatory in northwestern Washington, D.C.
Sen. Edward "Ted" Kennedy (Massachusetts) joined then Sen. Mel Martínez (Florida), and Sens. Lindsey Graham (South Carolina) and John Warner (Virginia) at MDC in July 2006 for a hearing of the Senate Armed Services Committee regarding immigrants in the military. ( Here with MDC Board Chair Helen Aguirre Ferré)
Dr. Joe Leonard Jr., assistant secretary for civil rights in the U.S. Department of Agriculture; Dr. José A. Vicente, president of MDC's North Campus; and David Boardman, Miami postmaster at the U.S. Postal Service, officiate the unveiling of the 2009 U.S. Supreme Court Justices stamp.
FEATURES