---
Cultural Spotlight
Art abounds at MDC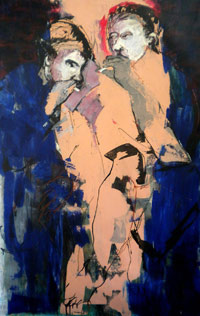 "Fumanchus," a painting by Yovani Bauta, from the Manifestations 2010 exhibition
The Art Gallery System (AGS) at Miami Dade College entices us to fall in love once again with contemporary art this season with one of the most extensive reviews from around the world and Miami.
"With almost 300 emerging and renowned artists from diverse parts of the world, the shows will be a panoramic view of today's art as part of our commitment to education through art," said AGS Director Jorge Gutiérrez.
Past is History – Future is Mystery
The first major exhibition of the season titled Past is History – Future is Mystery ponders and examines art as an effective weapon that can either combat totalitarian regimes or be manipulated into promoting them worldwide.
"That is the power of the arts and the sway that an image can have over the human psyche for good or for evil," Gutiérrez said.
Artists and their ability to create imagery that speaks for those who are silenced by oppression have remained the target of repression within totalitarian regimes throughout history and into the present.
This exhibition will showcase paintings, photography, drawings, mixed media and installations by many artists who continue that tradition of political dissent through art, all fittingly displayed at MDC's historic Freedom Tower through October.
The Art of Instinct
The first art related exhibition at the Medical Center Campus, as part of AGS, retells the history of medicine through a selection of 20 beautifully presented posters, specially produced for this unique exhibit. Great discoveries, controversies, blunders, deceptions and tragedies all come back to life in illustrations by artists of the epoch, including reproductions of images from the world's greatest museums and collections along with related texts of medicine in literature by Shakespeare, Mark Twain, Oscar Wilde, Voltaire and Beethoven, among others. The Art of Instinct: Medicine and Art will run through November.
Manifestations 2010
Art will also fill MDC's galleries in September and October. AGS and the Arts and Philosophy departments of Wolfson, Kendall, North, InterAmerican and Homestead campuses will host Manifestations 2010, featuring drawings, paintings, photography and mixed-media artwork by MDC faculty.
"The Faculty Show provides exemplary arts education and aids students in skills needed in the workplace, fomenting drive, expression and vision, all essential to a student's potential success in life," Gutiérrez said.
— HP
More Cultural Spotlight Articles