COVERSTORY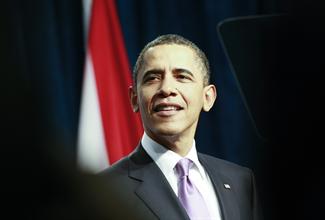 More than 3,000 Miami Dade College (MDC) graduates will hear from the 44th President of the United States of America on April 29 at the James L. Knight International Center in downtown Miami when President Barack Obama delivers the commencement address for the spring graduation ceremony of the North Campus. The Commander-in-Chief's participation in an MDC commencement ceremony continues the College's longstanding tradition of hosting world leaders, renowned speakers and top thinkers at graduation, including former U.S. Presidents George W. Bush in 2007 and Bill Clinton in 2010.
First Lady Michelle Obama and President Padrón
Dr. Padrón and former Gov. Jeb Bush at the Business-Higher Education Forum
Michael Oren, Israel's ambassador to the United States, and President Padrón at a Knight Foundation breakfast.
Cleveland State University President Dr. Ronald Berkman, Harvard University Professor Dr. Henry Louis Gates Jr. and Dr. Padrón. Gates and Padrón received honorary doctorates at the CSU Fall Commencement ceremony.
President Padrón and Dennis Lockhart, president of the Federal Reserve Bank of Atlanta. Dr. Padrón is also a member of the board of directors of the Federal Reserve Bank of Altanta's Miami Branch.
FEATURES