---
Making Their Mark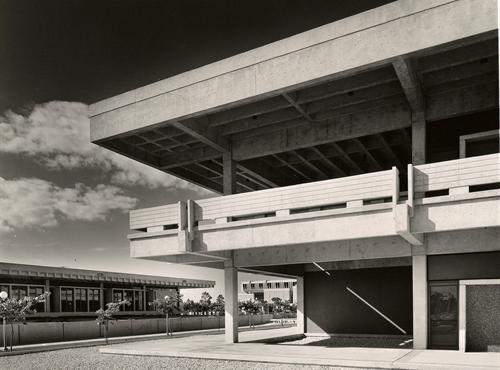 Professor's Exhibition Highlights MDC Architecture
When people think of concrete, they usually think of harsh, gray imagery, but MDC architecture professor José R. Vázquez is hoping to change that. His online exhibition, A Concrete Presence: Miami Dade College Architecture 1960-1970, is an architectural guide of the North and South (now Kendall) campuses, which were built during that era. The exhibition, at www.aconcretepresence.com, showcases the innovation and character of mid-century South Florida architecture, which reached its climax with the design of the campuses and their heavy incorporation of concrete elements.
"The designers needed to project the image of a modern college – open, forward-looking – to represent an optimistic vision of what an academic institution of higher learning should be," Vázquez said. The strong, durable qualities of the concrete represented the spirit of the College and its long-lasting legacy, while at the same time being an economical choice of building materials.
Vázquez's interest in the architecture of the campuses was sparked when he started teaching at North Campus in 2003 and organized an exhibit. Years later, he applied for a research grant from the Graham Foundation for the Advancement of Fine Arts, which he received in 2008 and used to produce A Concrete Presence.
The advantage of having the exhibition online is it can constantly grow; Vázquez is expanding it to include interviews and additional documentation so that visitors can learn about and appreciate the campuses' architectural significance.
"Many people within in the College don't seem to understand what they call 'a cold, hard building of concrete,' " he said. "The exhibition aims to foster an appreciation for the College's architecture not just locally but nationally as well, so that everyone can learn that Miami's architecture goes beyond Miami Beach's Art Deco."
— NM
More Making Their Mark Articles