---
Cultural Spotlight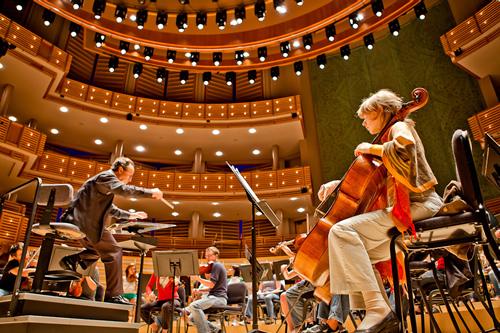 Rising Star Crosses the Globe
Anna Maria Litvinenko is living proof that talent has no age restrictions. This summer, the 16-year-old cellist, who studies at New World School of the Arts at MDC, traveled to Russia to represent the United States in the presitigious International Tchaikovsky Competition, where she was the youngest of 122 competing musicians.
Litvinenko was born in the Ukraine to a Ukrainian father and a Cuban mother, both musicians in their own right. Her father is a music educator and cellist for the Miami Symphony Orchestra; her mother, an accomplished pianist who studied at the Odessa Conservatory in Russia.
Although Litvinenko's first introduction to music was by way of piano lessons at the age of 4, she soon developed a passion for the cello. At age 10, she made her debut as a soloist, playing with the Greater Miami Youth Symphony Orchestra.
"Anna exemplifies the promise of our youth," said Jeffrey Hodgson, NWSA's Interim Provost. "She is a driven and talented artist who is passionate about making beautiful music.
"This is an outstanding achievement at her young age, which signals the promise of a brilliant and sustained musical career."
Litvinenko's most recent performances include Dvorak's Cello Concerto, which she performed with the Miami Symphony Orchestra under conductor Eduardo Marturet last year. After appearing on National Public Radio's From the Top, she also had the honor of receiving the Jack Kent Cooke Young Artist Award.
— NM
More Cultural Spotlight Articles