---
Cultural Spotlight
Music Students Learning from Legends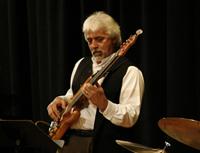 MDC Jazz Coordinator Matthew Bonelli inspires students to excel.
MDC Jazz Coordinator Matthew Bonelli has quite a legacy in the music industry. Some of his students include members of renowned bands such as Matchbox Twenty, Vertical Horizon and Sergio Mendes & Brazil 66. As a professional bassist, he toured with the Bee Gees for more than 10 years, playing concerts across the country one day and coming back to Miami to teach class the next.
"It was pretty amazing," Bonelli said of working with the Bee Gees. "There are a lot of big-name pop artists that can be difficult to work for, but they were very nice and took care of their musicians."
Even though his experiences could fill entire class lectures, Bonelli usually only brings them up when students ask, choosing instead to focus on the future of the young talents he's teaching.
"No one gets into music thinking it's going to be hard work. They get into it because they think it's a lot of fun," said Bonelli. "I try to let them retain that feeling but they also have to learn that you have to work hard if you want to succeed. You have to know your craft."
Bonelli, who has been teaching at MDC since 1987, also coordinates student performances and directs the jazz and combo bands. In 1993, he auditioned for a gig as a temporary bassist for the Bee Gees at a Miami Beach studio and got the part. He toured all over the world with the band, performing in a wide variety of venues, from The Oprah Winfrey Show to live concerts in Ireland. In 2003, when Bee Gee Maurice Gibb died, the band stopped touring, but Bonelli kept performing with its remaining members, Robin and Barry Gibb, on and off until 2005.
Although his touring days are behind him, Bonelli continues to perform locally in an acoustic duo with a pianist. "I enjoy playing lots of different styles and branching out. Ultimately, it's a learning experience."
— NM
More Cultural Spotlight Articles