---
Cultural Spotlight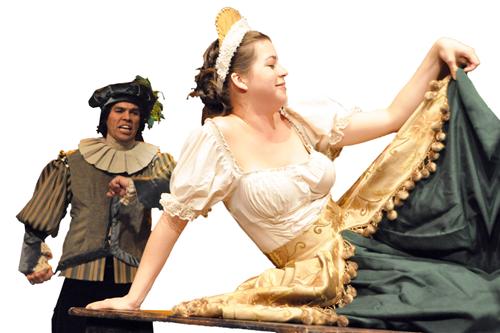 Prometeo Lights the Summer Stage
Teatro Prometeo theater at MDC illuminated the stage like a beautiful midsummer night's bonfire during the recent 26th annual International Hispanic Theatre Festival of Miami. Prometeo, which is part of the College's acclaimed literary institute now called The Center @ MDC, offered a captivating take on Shakespearean heroines, much as it did last year with its still celebrated entry Filo al fuego.
An enthralling adaptation by Prometeo instructor Neher Jacqueline Briceño, which extracts material from six of the Bard's most beloved plays and stitches them together into one drama, Mujeres de Shakespeare (Women of Shakespeare) quickly became the talk of the 18-day festival. Serving as the foundation for this new re-conceptualization are female protagonists from A Midsummer's Night Dream, The Taming of the Shrew, Romeo and Juliet, Measure for Measure, Hamlet and Macbeth. From fantasy to comedy to tragedy, this tribute to the women created by the most famous playwright of all time brings to light the breadth of human emotion and passion that ring clear in our current times, leaving their mark on both actors and audiences. 
Catch the Curtain Call
If you missed the summer run of this great play, don't make much ado about nothing. You'll get to see this great work when Mujeres de Shakespeare kicks off Prometeo's fall season, followed by staged readings of new plays, intriguing workshops and new and returning productions that have become part of the company's exciting repertory. 
"Each year the program takes on new challenges and looks for innovative ways to bring culture to the community," said Joann María Yarrow, Prometeo Theatre's artistic director. 
Earning International Acclaim
Yarrow's adaptation of Filo al fuego at the 2010 International Hispanic Theatre Festival was featured in the Spring 2011 issue of the Latin American Theatre Review in a critique that sings the praises of Prometeo's production, describing it as "absolutely spectacular" and "a fine representative of the international nature of this festival." This adaptation of Oliver Mayer's Blade to the Heat, created at MDC in collaboration with the playwright, was showcased at Los Angeles Theatre Center this summer.
It is that role as theatrical ambassador representing MDC and Miami's diversely international community that Prometeo performs best on the world's stage. As the only Spanish professional training program in the theater arts at a U.S. institution of higher education, Prometeo is keeping the Spanish theater tradition vibrant and alive for generations to come.
— HP
More Cultural Spotlight Articles