---
Cultural Spotlight
MDC Professor Turns Talented Teens Into Virtuosos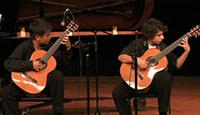 Students Kevin Huang, left, and Chris Monteverde have achieved great musical feats under the tutelage of MDC Professor Juan Carlos Vera.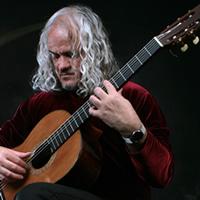 Professor Juan Carlos Vera
Playing a musical instrument at a professional level is quite an achievement for anyone, let alone students who haven't reached high school. Now, under the tutelage of MDC Continuing Education Professor Juan Carlos Vera, talented teenagers are accomplishing this great feat.
"Vera is a devoted classical guitar teacher who can get younger kids to play at a virtuoso level," said Rodester Brandon, chair of the Music, Theater and Dance Department at Kendall Campus. "He is my first go-to teacher when dealing with talented kids."
National Acclaim
Vera's pedagogical method builds confidence in young students while reinforcing key musical principles. His work has received national acclaim, boosting the strong reputation of MDC's Continuing Education and Professional Development Program.
Most recently, MDC classical guitar students Kevin Huang, 13, and Chris Monteverde, 15, performed Concierto de Aranjuez with the South Florida Youth Symphony.
 "They play concert pieces intended only for professionals," Vera said. Huang's performance generated thunderous cheers. Monteverde is scheduled to perform the entire work later this year, accompanied by the symphony. 
Ready for Prime Time
Vera and Huang also were featured in a 30-minute MDC TV program that aired this summer.
Vera, an MDC alumnus who has been teaching at MDC for 21 years, loves his job.
 "With younger students, you can do great work," he said. "By age 11, they can begin playing at the professional level, and by 13 they will be on the same level as the pros."
— JD
More Cultural Spotlight Articles