---
Features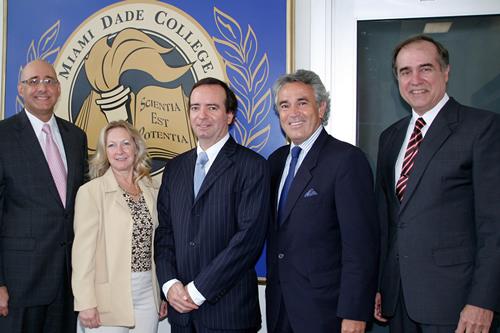 World Leaders Expand Students' Global Perspectives
MDC's Center for Latin American and Caribbean Initiatives (CLACI) has embarked on a series of collaborative efforts to bring to light different aspects of the cultural and socioeconomic milieu in Latin America and the Caribbean.
In an initiative bringing students face-to-face with world leaders, CLACI hosted Chile's Ambassador to the United States, Arturo Fermandois, who spoke about issues related to trade, diplomacy and economics.
"Fermandois' lecture brought attention to very timely ­issues of foreign policy in the Americas," said ­Carlos ­Barrezueta, CLACI ­executive director. "His knowledge of Chilean history and foreign policy was ­illuminating."
International Liaisons
Ambassador Fermandois' visit to the College was presented in collaboration with the office of the Consul General of Chile in Miami as part of CLACI's program series featuring prominent government officials from the Americas. Fermandois, who has served as Chile's Ambassador to the United States since June 2010, also teaches courses on constitutional law at the Catholic University of Chile, has written several books and has published more than 40 specialized articles in Chilean and foreign law reviews.
"His lecture was an extraordinary opportunity for our students to draw comparative conclusions on Inter-American affairs," Barrezueta added.
Students also benefited when CLACI recently collaborated with the University of Miami's Center for Latin American Studies at MDC's Confucius Institute, the OIE and Student Life at North Campus to host a panel discussion at the North Campus on the growing ties between China and Latin America with regard to international policy, economics, culture and history.
The panelists discussed the subject from a wide perspective that ­included trade matters, energy collaboration and accelerated capital investments, while reviewing historical and cultural ties, such as the influence of Chinese immigration in Latin America.
Exemplary Life
CLACI and the University of Miami's Center for Latin American Studies also partnered recently to host a three-part event to bring awareness to the life of Toussaint Louverture, the leader of the Haitian Revolution. The event, free and open to the public, included a documentary screening of Égalité for All: Toussaint Louverture and the Haitian Revolution, a question-and-answer segment and an informal reception at MDC's North Campus. The program was presented in collaboration with MDC's Office of International Education (OIE) and the Office of Student Life at North Campus.
The documentary tells the story of Louverture's life, his leadership of the 1791 slave rebellion in the French colony of Saint Domingue, and how his military genius and political acumen led to the establishment of the independent nation of Haiti.
— HP
More Features Articles