---
Features
Focusing on Diverse Abilities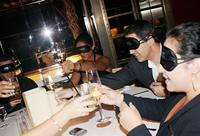 During Ability Explosion, "Dining in the Dark" events at Miami Beach restaurants teach participants about the challenges faced by those with impaired vision.
Getting her students to think in unique ways about the diverse needs of their future clients, MDC professor Barbara Rosenthal is taking her Principles of Marketing class to a new level this fall.
Rosenthal, who teaches business at Kendall Campus, has established a partnership between MDC and Ability Explosion, a weeklong series of activities in Miami Beach set for Oct. 19 to 23. First created three years ago by human rights activist David New, Ability Explosion highlights the skills of people living with disabilities, encourages their acceptance by the entire community and promotes innovations that will improve their lives. 
New MDC Endeavor
By participating in the event for the first time this year, MDC students will discover ways to meet the needs of clients they previously may have overlooked.
"This is a hands-on educational experience," Rosenthal said. "Learning is achieved by more than just reading books. It is best achieved through interaction and real understanding."
Rosenthal's students will provide publicity, design and logistical support for Ability Explosion's many activities, including the Resource and Technology Expo, a comedy festival, business luncheon, 5K run, fashion show and cocktail party. 
Multi-Campus Involvement
MDC's involvement will extend far beyond Kendall Campus. Students in Wolfson Campus' hospitality program will work at restaurants during "Lights Out Miami," a dining-in-the-dark experience designed to teach participants about the challenges faced by those with impaired vision. In addition, music students from the North and Kendall campuses will participate in the "Takin' It to the Streets" performance.
"The entire week will be very motivational," Rosenthal said. "MDC students will have the opportunity to show their compassion while developing their marketing skills."
— Staff Report
More Features Articles