---
Features
Former Colombian Leader Receives MDC's Highest Honor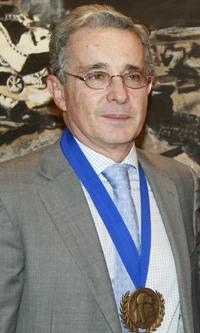 Former President of Colombia Dr. Álvaro Uribe Vélez recently received MDC's Presidential Medal.
Miami Dade College recently honored former President of Colombia Dr. Álvaro Uribe Vélez with its highest distinction: the Presidential Medal.
Miami Dade College President Dr. Eduardo J. Padrón presented the former Colombian dignitary with the College's Presidential Medal at a recent reception in recognition of Dr. Uribe's stellar legacy of uncompromising leadership during his presidency from 2002 to 2010.
Steadfast in his unrelenting fight against guerilla warfare, drug cartels, governmental corruption and other sociopolitical ailments afflicting the South American nation, the former president has received a wide array of accolades and praises throughout the years, including the American Jewish Committee's "Light Unto the Nations" award in 2007 and the Presidential Medal of Freedom in 2009. To these awards he now adds Miami Dade College's highest
acknowledgment.
"This distinction is an honor for and from Miami Dade College, calling attention to those who have played a pivotal role and used their influence in trying to make the world a better place for justice, peace and hope," Dr. Padrón said.
The MIami Dade College Presidential Medal already boasts of an impressive roster of world-renowned recipients who have contributed to the betterment of humanity in a variety of disciplines, including other current and former global leaders such as Poland's Lech Walesa, former Soviet Union leader Mikhail Gorbachev, Spain's José María Aznar, former U.S. President Bill Clinton, former U.S. Secretary of State Madeleine Albright and Nobel Peace Prize recipient, economist and professor Dr. Muhammad Yunus.
— HP
More Features Articles