---
Features
MDC Producing Top Teachers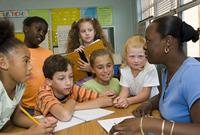 Clinical experience, research-based practices and personalized education give MDC education students the edge.
New survey data show that MDC's School of Education graduates outperformed those from state universities and private colleges in Florida when it came to their own students' FCAT scores.
"Our graduates are very successful teachers because of their passion for teaching and dedication to the teaching profession," said Dr. Susan Neimand, director of the School of Education at InterAmerican Campus. "In addition, our program instills in them research-based practices and gives them hours of clinical experience. Also, our faculty model best practices in education and personalize our students' education, so our graduates naturally do the same."
Study Results
The Florida Department of Education (DOE) recently matched students' FCAT scores before and after being taught by new teachers to access their learning gains and gauge teacher effectiveness. Eighty percent of new teachers who were graduates of MDC's Baccalaureate in Education program had more than half of their students make learning gains from their previous scores.
Many Choices
In addition to offering a four-year bachelor's in education, MDC's School of Education provides teacher certification for individuals with degrees in other fields through its Educator Prep Institute (EPI). The DOE's data show that new teachers who completed this intensive competency-based program ranked fifth out of 15 Florida College System institutions when it came to learning gains made by students in their first year of teaching. In addition, EPI completers outranked completers of the Miami-Dade County Public School alternative certification programs by nearly 10 percent.
The seven-course program is designed to certify non-education majors as teachers and place them in subject areas that face a critical shortage. A report from earlier this year shows that 65 percent of EPI completers from MDC are currently employed in Florida public schools.
When surveyed in 2010, EPI students said their top reasons for attending MDC were the specific programs offered and their low cost.
— NM
More Features Articles