---
Features
A Noble Appointment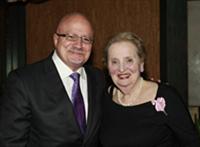 MDC President Eduardo J. Padrón and former U.S. Secretary of State Madeleine Albright both serve on the board of the Council on Foreign Relations.
Miami Dade College President Dr. Eduardo J. Padrón has been elected to the Board of Directors of the prestigious Council on Foreign Relations (CFR).
Padrón, who has served as MDC president since 1995, is widely recognized as one of the top educational leaders in the world and is often invited to participate in policy forums in the United States and abroad. He was also recently named one of Time magazine's "10 Best
College Presidents."
He will join other noteworthy names on the Council's board, including former Secretaries of State Colin Powell and Madeleine Albright; ex-New Jersey Governor Christine Todd Whitman; former Secretary of the Treasury Robert Rubin; John S. and James L. Knight Foundation President and CEO Alberto Ibargüen; journalist Fareed Zakaria; and International Rescue Committee President George Rupp.
Among the more than 4,000 members of the Council are journalists Diane Sawyer and
Katie Couric; Harvard professor Dr. Henry Louis Gates Jr.; political expert and commentator David Gergen; Supreme Court Justice Ruth Bader Ginsburg; and foreign policy analyst Strobe Talbott.
The Council on Foreign Relations, founded in 1921 and headquartered in New York, is an independent, nonpartisan membership organization. It serves as a think tank and publisher dedicated to being a resource for its members and other interested citizens in order to help them better understand the world.
The Council maintains a diverse membership and offers a wide variety of special programs that are designed to promote interest and develop expertise in the next generation of foreign-policy leaders.
— WV
More Features Articles