---
Features
Meeting the Needs of the Underserved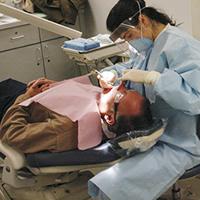 MDC dental hygiene students serve more than 2,000 patients each year.
Expanding its strong tradition of serving the South Florida community, Miami Dade College's Medical Center Campus is now partnering with the Peñalver Clinic and the Miami-Dade Health Department to provide low-cost dental care for underserved populations.
"The opening of this new dental clinic at the Peñalver facility is a win-win for everybody," said Dr. Pete Gutiérrez, dean of Medical Center Campus' School of Health Sciences. "Miami Dade College is especially proud to be helping the people in the community, many of whom could not otherwise afford this great care."
Founded in 1996, the clinic was a dream of Dr. Rafael A. Peñalver, a Cuban physician who wanted to create a facility that would provide high-quality, affordable, preventive medicine, education and personalized treatment for all.
The dental hygiene clinic is now the newest component of the 22,000
square-foot facility, which was designed to be a place of comfort and refuge for those in the community.
Through this new MDC/Peñalver partnership, students will provide much-needed services to the community while gaining additional practical education and social awareness.
MDC dental hygiene students provide services to more than 2,000 patients each year at the MDC Dental Clinic in Miami-Dade County's Medical District. All services are provided for a nominal fee.
The services at the clinic include cleanings, scaling and root planing, radiographs, sealants, nutritional counseling, tobacco cessation, periodontal adjunctive chemotherapies, desensitization and fluoride treatments, localized antibiotic treatments, and self-care instructions so patients can improve and maintain their oral health.
— HP
More Features Articles