---
Features
Surviving the Golden Hour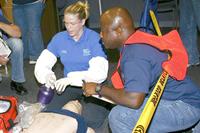 MDC's Medical Center Campus paramedics will train Miami-Dade Police.
MDC's Medical Center Campus recently joined forces with the Miami-Dade Police Department to launch the nation's first medical training course designed to prevent officer fatalities in the first hour after injury at a crime scene.
Called "Surviving the Golden Hour," this intensive, 40-hour course teaches officers life-saving medical techniques, including dressing wounds, stabilizing spinal injuries, applying quick-clotting gauze and using combat-style tourniquets that can be applied with one hand.
"If the crime scene is not yet secure – the bad guy is still shooting – then we as fellow officers have to secure that area before paramedics will be able to come in," explained Annette Basulto-Álvarez, safety officer at the Miami-Dade Police Department.
Before Paramedics Arrive
"We have to render aid as best we can while not putting our own lives in danger," she said. "The 'golden hour' is the critical time to stabilize the injured officer, giving him or her a better chance for survival."
The first part of the course is taught at the Miami-Dade Police Department's training facility. The second part takes place at MDC's Medical Center Campus, which has a state-of-the-art Simulation Lab. Officers will work with MDC's mannequins, which are able to simulate a wide range of injuries.
 "We are grateful to MDC for letting us use their facilities, technology and professors," said Basulto-Álvarez.
Training for Every Officer
In the course, dangerous scenarios will be simulated. Officers, equipped with emergency trauma kits, will be required to conduct wound assessment, control bleeding and stabilize injuries they would encounter in the field. The course will be taught on a monthly basis until all county officers have gone through the training.
"I strongly believe this will save lives," said Basulto-Álvarez. "Our hope is that it will bring down the fatalities statistic that has been so devastating."
— WV
More Features Articles