---
Features
A Gateway to New Horizons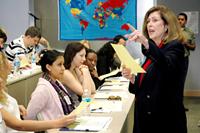 MDC English Professor Maureen O'Hara directs the annual Fulbright Gateway Orientation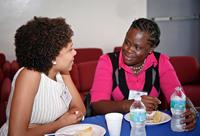 Luciana Da Cruz Brito, left, of Brazil, chats with fellow Fulbright recipient Maxine Browne, of St. Vincent.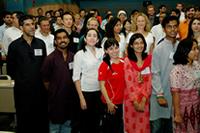 Xaher Gul, left, stands with other 2009 Fulbright Gateway Orientation participants.
For scores of international students who arrive at Miami Dade College as Fulbright students every year, the Magic City and MDC are their first taste of American life. By participating in the Fulbright Gateway Orientation Program, organized and presented by Miami Dade College, these talented intellectuals get their first glimpse of the rich variety of experiences they will have at numerous institutions across the country where they will spend time studying.
The Fulbright International Educational Exchange Program brings intellectuals, teachers and researchers from around the world to study and work at institutions of higher education across the United States. Thanks to the Department of State's Bureau of Educational and Cultural Affairs, which sponsors the weeklong orientation every August, new arrivals receive a warm weeklong welcome to the U.S. before jumping into their intense academic pursuit. This year's group, hailing from 67 countries, has a lot to look forward to, according to past program participants.
Lasting Impressions of U.S.
"The MDC Gateway Orientation will always hold a special place in our hearts and memories," said Xaher Gul of Pakistan, a 2009 Gateway participant who came to the U.S. to study Public Health at George Washington University. "It was just wonderful listening to and interacting with people from all over the world and learning that there is mutual respect and love for one another."
During their stay in Miami, the 2011 students engaged in both formal and casual interactions with their peers, MDC professors and Fulbright program officers through panel discussions, informative lectures and even a boat ride on Biscayne Bay. In the process, they explored the joys and challenges of living and working in an environment that may contrast greatly from the one they have back home.
Powerful Experiences
"It's fascinating to have master's and doctoral students from 67 countries, speaking so many different languages and representing a vast array of cultures. They all commune together at this Gateway and share their worlds with each other," said MDC English Professor Maureen O'Hara, who directs the Gateway program. "Their genuine interest in learning and sharing their experiences is very powerful."
An aerospace engineer turned entrepreneur, Italian student Andrea Gulisano is heading to the Massachusetts Institute of Technology (MIT) after the Gateway Orientation to study business. "I have never met so much as a tenth of the nationalities that are represented here at MDC," he said. "I am very excited to be a part of this."
Maxine Browne of St. Vincent is looking forward to what comes next: furthering her studies in Arts Management at American University. "I am thrilled to be going to Washington, D.C. There is so much going on there in the arts," Browne said. "This is a wonderful opportunity for me to become a true professional."
More Features Articles