---
Features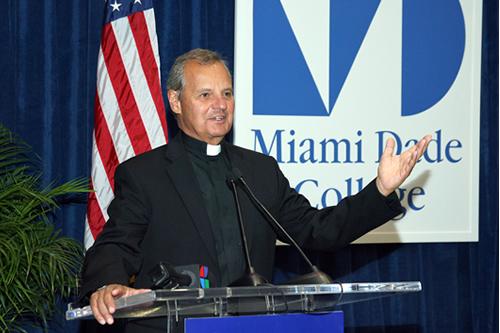 Supervision Bachelor's Degree a Hit
Miami Dade College and St. Thomas University have forged a new academic partnership to offer MDC students a smooth transition into graduate-level studies.
"This collaboration represents a tremendous advantage to our students because the curricula are complementary," said MDC Kendall Campus President Dr. Lourdes Oroza.
Meeting Workforce Needs
Introduced in the spring of 2010, MDC's Bachelor of Applied Science with a major in Supervision and Management (BAS-SM) combines practical experience with in-depth study of management principles. Developed as a solution to workforce needs, it is one of several MDC programs at both the bachelor's and associate's levels that is specifically designed for students currently employed who want to earn a degree to increase their career opportunities.
"These students are preparing to become the future business leaders and entrepreneurs in our community," Dr. Oroza said. 
Advanced Studies
At a recent signing ceremony, Miami Dade College and St. Thomas both formally agreed to help students in MDC's BAS-SM program to enter St. Thomas University's Master of Science in Management program through an automatic enrollment process.
MDC continues to be at the forefront of meeting the needs of its community and students with new programs and courses. As a result, demand for these classes has increased exponentially. The BAS-SM program, offered at MDC's Kendall, North and Wolfson campuses, had just 91 students enrolled last year; there now are more than 1,800 students currently enrolled in the program. MDC's School of Business is one of the fastest growing areas of the College, enrolling more than 12,000 students in their many programs offered at seven of Miami Dade College's eight
campuses.
— HP
More Features Articles