---
Cultural Spotlight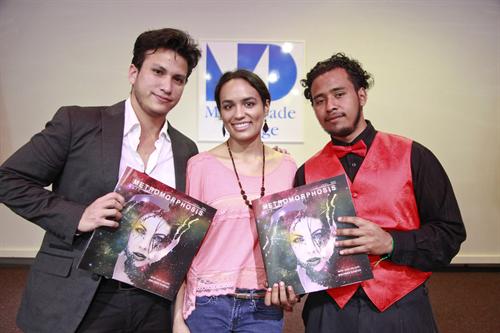 Morphing Life at MDC
Few community colleges have a literary magazine. Even fewer did 25 years ago, when Miami Dade College launched its award-winning publication Metromorphosis at Wolfson Campus. That innovative work quickly paved the way for the development of MDC's four younger, acclaimed student literary publications: Axis, Café Cultura, Miambiance and Urbana. Celebrating this momentous occasion, Metromorphosis' staff recently marked its silver anniversary with fanfare and pride at the unveiling of its 25th edition.
Metromorphosis' staff is in essence a club of Miami Dade College students who reflect the institution's diversity. Most of them are not writing or art majors, and they come from different backgrounds and realities, but their variegated experiences intersect at Metromorphosis, culminating each year in the publication of yet another award-winning magazine celebrating their one common interest: expression through the arts.
"This is a commuter college," said Wolfson Campus Professor Michael Hettich, who serves as Metromorphosis' co-advisor. "These students find community through Metromorphosis."
Students Lead the Way
Although Hettich and founding co-advisor Cheryl M. Clark have guided the publication's staff year after year, they take care to ensure that Metromorphosis remains an honest reflection of its authors. "It is entirely a student publication," said Hettich. "Our role as advisors is to facilitate their process. We influence them by teaching them, not by telling them what we think."
Students put the magazine together from start to finish, bouncing ideas off each other, selecting which works to publish, taking care of the visuals, laying out pages and designing artwork to accompany each piece of poetry or prose.
Their hard work has not gone unnoticed. Over the years, Metromorphosis has garnered scores of awards from scholastic press associations.
Beyond the Printed Page
At the unveiling of the 2012 edition, staff members shared their stories of the personal impact that the magazine had on them.
"Metromorphosis is more than a magazine. It's literature. It's art," said consulting editor Facundo Raganato, who has worked on the publication for the past three years.
"I'm not a painter, and I'm not a writer, but I still appreciate art," said editor Adriana Pérez-Leyva. "Being a part of Metromorphosis has given me the opportunity to be creative."
— MR
More Cultural Spotlight Articles