---
Features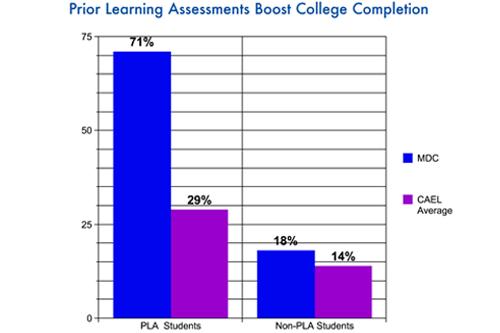 MDC Secures Path to Success for Veterans
With the nation's burgeoning population of veterans increasingly taking advantage of the vastly expanded educational opportunities offered by the 2008 Post-9/11 GI Bill, Miami Dade College and institutions of higher education around the country have seen a dramatic rise in veteran enrollment in recent years. To ensure a bright future for its veteran student body, MDC is taking proactive steps to provide those who have defended our freedom the critical support they need to complete their degrees.
Whether attending college for the first time or returning to studies from active duty, veterans face the same obstacles to completion as other students, plus a unique set of challenges. While seeking  higher education bodes well for "upskilling" veterans and improving their post-combat work prospects, completing a degree is often interrupted by the immediate need to support a family and the various difficulties inherent in transitioning to civilian life.
Prior learning assessments (PLA) are promising tools for helping veterans get ahead, validating their experience and training with college credits. There is ample evidence that students who earn prior learning credit have better academic outcomes, such as graduation rates and persistence in college, than those who do not.
Many Options
At MDC, veterans benefit from various types of PLA's, including but not limited to credit for learning acquired from experience and credit for high scores on Advanced Placement (AP) exams and the College Level Examination Program (CLEP). According to the College's Office of Institutional Research, in 2010-11, veterans at MDC earned 23.7 PLA credits on average – far more than the 9.9 averaged by the overall student body.
Data show that MDC's approach to prior learning assessments is working. In a survey of 48 institutions (including MDC) by the Council for Adult and Experiential Learners (CAEL), an average 29 percent of students who earned PLA credit from their institutions completed an associate degree whereas only 14 percent of non-PLA students reached completion. Currently at MDC, first-time-in-college students receiving PLA credit had a vastly higher completion rate of 71 percent; among non-PLA students, that rate stood at 18 percent.
Based on such positive results, the use of PLA's is rising at MDC. In the 2011-12 academic year, 22 percent more students earned credits for prior learning than in the previous year, according to the Office of Institutional Research.
Mapping the Future
In order to provide national models for helping veterans complete degrees and credentials, the Fund for the Improvement of Post- Secondary Education (FIPSE) awarded a grant to a collaboration among two prestigious national organizations in higher education: the American Council of Education (ACE) and the Council of Adult and Experiential Learners (CAEL). These organizations, in turn, solicited the assistance of three community colleges, with MDC among them, to implement the Maps to Credentials project.
The project's goal is to facilitate the ability of veterans to leverage their experience and training in the military and translate their prior learning into academic credits. More important, given military careers (for example, military police or human resource specialist), MDC is developing "road maps" to guide vets to select pathways that accelerate their time to completion based on prior learning while serving their country.
"By providing guidance as to which military experiences best feed into credentials so that vets can finish college, earn a degree, seek employment, care for their family and become a contributing member of the community, MDC is doing its part to serve those who served their country well," said Dr. Michael Reiner, MDC associate provost of Academic Affairs.
— MR
More Features Articles