---
Features
A Winner Four Times Running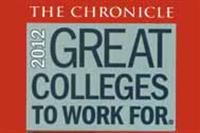 Miami Dade College has been chosen for a fourth year in a row as one of The Chronicle of Higher Education's "Great Colleges to Work For."
Proudly taking its place at the head of the class, Miami Dade College has been chosen for a fourth year in a row as one of The Chronicle of Higher Education's "Great Colleges to Work For." In addition to this prestigious honor, MDC made The Chronicle's 2012 Honor Roll for its exceptional track record in more than four of the 12 categories surveyed.
More than 46,000 administrators, faculty members and professional support staff from 294 institutions of higher education across the nation participated in this year's survey, which is now in its fifth year. 
"The institutions that the Great Colleges program recognizes provide innovative educational experiences while also offering their employees outstanding workplace experiences," said Liz McMillen, The Chronicle's editor.
MDC received high rankings in these six categories: Collaborative Governance; Professional/Career Development Programs; Confidence in Senior Leadership; Supervisor/Department Chair Relationship; Respect and Appreciation; and Diversity.
Making the Honor Roll is especially impressive in the current challenging economic climate.
"When times are tough, the commitment to workplace quality really gets tested," said Richard Boyer, principal of ModernThink LLC, which administered and analyzed the survey. "Those institutions that measure up during times of economic hardship reinforce their already strong cultures."
The survey results are based on a two-part assessment process: an institutional audit that captured demographics and workplace policies from each institution and the employee survey. The primary factor in deciding whether an institution received recognition was the employee feedback.
— BK
More Features Articles