---
Cultural Spotlight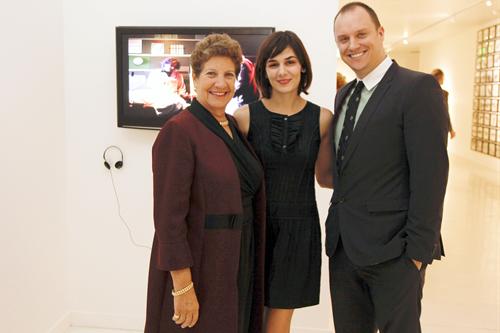 And the Awards Go to …
Celebrating the work of great artists of Cuban descent living outside of Cuba, the College recently announced the winners of the CINTAS Foundation Fellowship, a one-of-a-kind program that has honored some of the world's most talented Cuban artists.
In an elegant awards reception held at MDC's National Historic Landmark Freedom Tower, four winners were named from an impressive roster of finalists selected earlier in the fall. Jillian Mayer won the visual arts fellowship; Ailem Carvajal received the Brandon Fradd music composition award; and Marta Canavés and Marilys Nepomechie will share an architecture fellowship for the winning application they submitted together. Each fellowship comes with a coveted $10,000 award to complete the project outlined in the winner's proposal.
"We extend our warmest congratulations to the winners; their work is testament to their creativity and talent, and our thanks to the jurors for their invaluable service," said Hortensia Sampedro, CINTAS Foundation president. "We are proud to be associated with MDC in this endeavor and thank President Eduardo Padrón for his unflagging support."
The CINTAS Fellowship Program encourages creative development in architecture, literature, music composition and the visual arts. The Foundation was established with funds from the estate of Oscar B. Cintas (1887-1957), a former Cuban ambassador to the United States, prominent industrialist and patron of the arts. In June of 2011, the Foundation entered into an extended loan to MDC's Museum and Galleries of Art + Design of the Cintas Fellows Collection, containing nearly 300 pieces by artists who have received prestigious CINTAS Fellowships, awarded since 1963.
The prestigious collection is comprised of gifts made by the fellows to the foundation. More than 200 artists are represented in the collection through a wide variety of media including paintings, prints, photographs, drawings, films, sculptures and installation art. The collection's vast scope reflects the heterogeneous nature of the artistic production of Cuban artists, spanning across various generations, and their significant aesthetic and historical contribution to modern and contemporary art.
— BK
More Cultural Spotlight Articles