---
Features
Low-Income Students Reach New Heights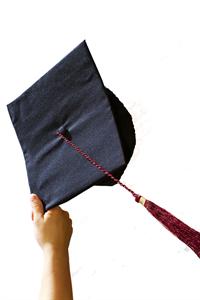 Against the odds, students receiving Pell grants surpass higher-income students in graduation rates, retention and grades.
Recent findings from MDC's Office of Institutional Research underscore the importance of federal student aid, showing that the College's low-income students, whose studies are sustained by Pell Grant funds, are outperforming their higher-income peers in terms of graduation, retention and grades.
Historically, higher-income students have had the upper hand in college success – and, at most institutions they still do. A recent Pell Institute report found that, while nearly 50 percent of higher-income, first-generation students had completed at least an associate degree or other credential in six years, only roughly a third of their low-income peers had. However, Pell recipients reached those levels of attainment at twice the rate of low-income students who had not received the funds.
Significant Impact
At MDC, the Pell Grant plays a crucial role, allowing students at risk of abandoning their college studies due to financial hardship to stay in school. And, at MDC, they are making strides above and beyond, outpacing their peers in numerous measures.
Among student cohorts who began their studies at MDC in 2005, 2006 and 2007, roughly 60 percent received the Pell Grant at some point within a maximum of five years at the institution. While low-income students overall gained a slight advantage in graduation rates over higher-income students over that time, the difference among college-ready students is notable. MDC low-income, college-ready students are graduating at almost twice the rate of higher-income, college-ready students. In addition, low-income students' retention rates are higher, as well as their GPAs. Roughly half of the college-ready Pell recipients maintained a GPA of 2.5 or higher, compared to about two-fifths of college-ready higher-income students.
Minorities Succeeding
Impressively, the most notable gains at MDC were seen among minority, college-ready Pell Grant recipients. Hispanic students outperformed all other groups, including white students. In addition, twice as many black students who received Pell Grant funds graduated within five years compared to those who did not receive those funds.
At MDC, these gains are growing year by year as the College works hard to close the achievement gap between low-income and higher-income students and ensure that opportunity is within everyone's reach.
— MR
More Features Articles