---
Academics
MDC Test Prep Program Earns Chancellor's Award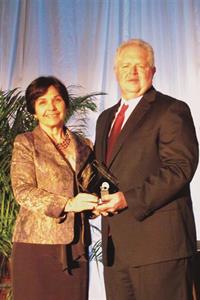 On behalf of Miami Dade College, MDC Kendall Campus President Dr. Lourdes Oroza received the Chancellor's Best Practice Award from Chancellor Randy Hanna.
Miami Dade College recently received a 2013 Chancellor's Best Practice Award from the Florida Department of Education for its innovative Test Prep Boot Camp, which helps students bolster scores on the Postsecondary Education Readiness Test (PERT) and increase their academic preparation.
Rolled out in 2013, Test Prep Boot Camps have served nearly 3,000 first-time college students. Surveys show that 51 percent of writing students and 43 percent of both math and reading students placed up at least one level after the week of training.
Boot Camps are just one of many Student Achievement Initiatives at MDC designed to improve student success. These efforts are supported by grants from the Bill & Melinda Gates Foundation's Completion By Design program, the John S. and James L. Knight Foundation, the Kresge Foundation, and the Lumina Foundation.
— Staff Report
More Academics Articles