---
Cultural Spotlight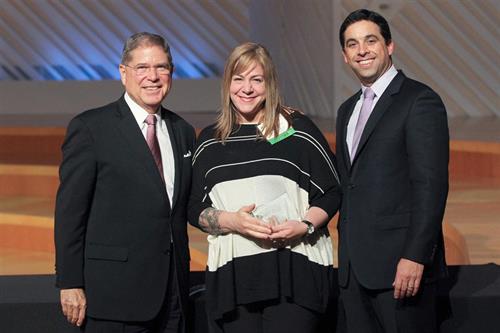 Cultural Initiatives Garner Knight Foundation Grants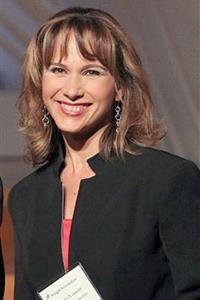 Joann María Yarrow accepted the grant award on behalf of MDC's Teatro Prometeo.
Two acclaimed MDC cultural institutions have received coveted Knight Arts Challenge grants from the esteemed John S. and James L. Knight Foundation to fund exciting new initiatives that aim to bring the South Florida community together through the arts.
MDC's nationally renowned Miami Book Fair International and Teatro Prometeo both will introduce new events that help extend Miami's reputation as a year-round center for arts and culture.
The Swamp @ Miami Book Fair International will encompass a pop-up lounge featuring Florida stories and writers whose works explore the beauty, contradictions, uniqueness and weirdness of life in the Sunshine State.
Generously funded by the Arts Challenge grant, it is a wonderful complement to the Fair's already impressive and diverse programming. The Swamp also will invite other literary and arts groups to curate individual nights, assuring that each evening is an event reflecting the personalities that animate the local cultural scene.
Prometeo will use its Challenge grant to fund Play Time!, an international children's theater festival that will feature theater from all over the world to be enjoyed by families of different ethnicities and cultures.
"The Knight Arts Challenge grant ensures our labor of love will keep on growing and advancing," said Prometeo Artistic Director Joann María Yarrow. "But it also serves as an affirmation that our educational initiatives are gaining national recognition as innovative efforts fostering community engagement locally and beyond."
By presenting all-accessible plays in different languages and with supertitles, children in the community will be introduced to different theater forms, as well as varying cultural traditions, in a fun, interactive way. Admission for children will be free.
"We are so humbled by these awards," said Alina Interián, senior executive director for MDCulture, the College's Cultural Affairs Department. "These events offer a fantastic vehicle to providing our community with new ideas and experiences while furthering the mission of both MDCulture and the Knight Foundation."
— Staff Report
More Cultural Spotlight Articles