---
Features
A Ladder to Success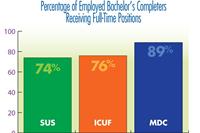 MDC graduates outpace those of other Florida public or private colleges in obtaining full-time positions after graduation.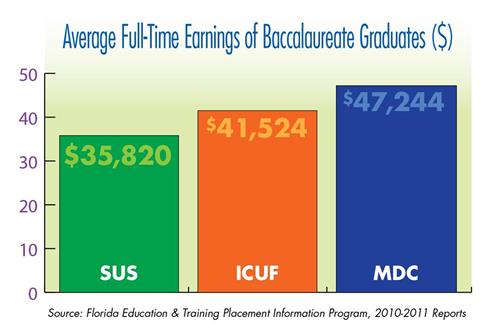 MDC graduates get higher-paying full-time jobs than their peers at other public and private universities, on average.
Adding new baccalaureate programs year after year, Miami Dade College is making success a tangible reality for the legions of students who are graduating from its programs. MDC's low-cost bachelor's degrees not only make a four-year education accessible but since they are geared toward areas with a high workforce demand, they also set up graduates for career success with excellent prospects for lucrative jobs.
To meet the needs of regional and national industries, MDC offers bachelor's degrees in a variety of sectors experiencing a high demand for skilled workers. Majors include biological sciences; physician assistant studies; nursing; film, television and digital production; public safety management; supervision and management; electronics engineering technology; and seven specialized education tracks. In addition, set to debut this year are two new bachelor's programs in hot fields: supply chain management and information systems technology.
Ready for a Career
The College's workforce-oriented approach goes a long way to ensure that students don't end up in a job-seeking lurch after graduation – and the results speak for themselves.
MDC surpasses other Florida colleges and universities in job placement and earnings. According to data from the Florida Education and Training Placement Information Program (FETPIP), 85 percent of MDC baccalaureate graduates found employment after graduation, outshining state universities in job placement by more than 20 percent and private universities by 35 percent. What's more, 89 percent of those who found work gained full-time employment, a figure exceeding those of private and public universities statewide (see chart below).
Better yet, full-time jobs obtained by MDC baccalaureate grads paid significantly more, with salaries averaging at $47,244, a figure more than $10,000 higher than salaries of state university graduates.
Lifting Effect
Thanks to MDC's constant efforts to maintain the cost of a college education within reach for all who seek it, its bachelor's programs are among the most affordable in the nation. As a result, in addition to finding solid, lucrative jobs upon graduation, MDC grads also begin this new chapter of life free and clear of onerous student loan debt.
For any recent graduate, this could be considered a gift. But, when one considers that 66 percent of MDC students are low-income or living below the poverty level, it is clear that MDC's positive impact resonates well beyond the individual, at once lifting families, communities and society as a whole.
Enrollment Reaching New Heights
Enrollment in MDC's baccalaureate programs grows by leaps and bounds each year. From fall 2011 to fall 2012, overall enrollment shot up 33 percent. Miami Dade College offers baccalaureates in:
Bachelor of Applied Science in Film, TV and Digital Production
Bachelor of Applied Science in Health Sciences with option in Physician Assistant Studies
Bachelor of Applied Science in Public Safety Management
Bachelor of Applied Science in Supervision and Management
Bachelor of Applied Science in Supply Chain Management
Bachelor of Science in Biological Sciences
Bachelor of Science in Early Childhood Education
Bachelor of Science in Education
Bachelor of Science in Electronics Engineering Technologies
Bachelor of Science in Information Systems Technology
Bachelor of Science in Nursing
Did You Know?
98% of MDC graduates placed in jobs related to their degrees or continued their education.
— MR
More Features Articles