---
Features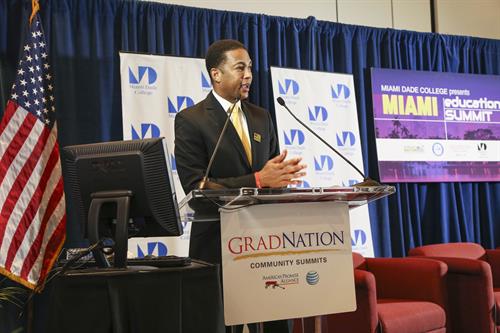 Part of the National Conversation
Taking a leading role in national efforts to increase high school graduation rates and put more students on a path to a college degree, Miami Dade College joined forces with America's Promise Alliance and its Grad Nation campaign to host the Miami Education Summit.
This landmark gathering of community and business leaders, educators, government agencies and youth explored solutions and collaborative opportunities to reach a nationwide goal of a 90 percent high school graduation rate by 2020. It's one of 100 community summits happening across the country to bring stakeholders together to examine effective dropout prevention efforts and bolster existing initiatives.
Featured presenters and panelists included State Sen. Dwight Bullard; Marshall Criser III, former president of AT&T Florida and current chancellor of the State University System of Florida; journalist and CNN news anchor Don Lemon, and leaders for the Miami-Dade County Public Schools, Big Brothers Big Sisters, Citi Year Miami, The College Board and Opportunity Nation, among others. MDC President Dr. Eduardo J. Padrón delivered a powerful opening address about helping students succeed in the 21st century knowledge economy.
"Increasing high school graduation rates is an important step in reforming education," Padrón said. "At MDC, we see how an open door policy can make all the difference in people's lives."
— AMS
More Features Articles