---
Features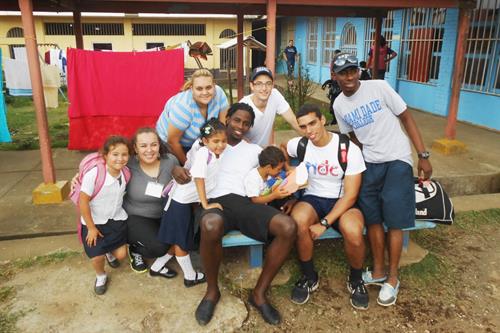 Making a Difference in Nicaragua
 Eight MDC students recently traveled to Nicaragua to make a positive impact on the lives of orphans in an impoverished rural village. What they couldn't predict was how forceful the trip's impact would be on their own lives.
This MDC faculty-led service immersion program was organized in collaboration with the nonprofit Panorama Service Expeditions and directed by Dr. Arlen García, associate professor of psychology and student life skills, and Prof. Jaime Anzalotta, who specializes in social work and human services and currently is serving as interim dean of students at Wolfson Campus. The students who participated in this program were active officers or members of the Psychology Club and/or the ASPIRA Leadership Organization at North Campus. Students' pathways of study ranged from psychology and criminal justice to education.
Multifaceted Mission
"The purpose of this program was to expose students beyond the classroom while integrating the College's 10 Learning Outcomes, the College's strategic plan for achieving the goal of fostering global citizenship and North Campus' Human Rights Awareness campaign," said Anzalotta.
Nicaragua is the second poorest country in the Western hemisphere after Haiti. The poverty students witnessed when they arrived stood in stark contrast to their relatively comfortable lives in the United States. "The majority of the students had never been outside of the U.S.," said García. "Seeing what they saw was incredibly powerful."
Grassroots Fundraising
The main target of the service immersion was Hogar Siervas del Divino Rostro, an orphanage and school in El Crucero, Managua, that looks after 20 children and educates 180 more from the area. MDC students, who made it to Nicaragua through their own grassroots fundraising combined with contributions from the College's Student Life department, brought more than 350 pounds of clothing and school supplies for the children. They applied the lessons in social work and human services acquired at MDC while interacting with the kids in various ways, from playing football to helping them with schoolwork and arts and crafts.
But they also bore witness to the children's day-to-day struggles, including the lack of running water, frequent power outages and a general scarcity of basic necessities. In addition, García and Anzalotta provided psychology and education workshops to parents and teachers in the community. Topics covered included anti-bullying and parenting skills.
"There are no words to describe the emotions I felt on this expedition," said second-year MDC psychology student Annie Conde. "It changed entirely the way I think of the world around me. I realized how wasteful we are, how much we take for granted in our society."
Priceless Gifts
"The level of poverty was so humbling," said MDC student Stelzon Anaya. "The orphans were sleeping on wood with two thin bedspreads as mattresses." This spurred the MDC team into action once again. With funds they had collected, they purchased new mattresses for all 20 orphans. They also were able to pay for a new roof to replace the leaky one that was rotting from years of decay caused by sulfuric acid and ash from a nearby volcano.
"When we brought them the beds the day before we departed, it was very emotional," said Anaya. "One boy asked me to hug him. He said, 'Thank you for the bed.' It filled me with joy that we were able to do so much with them, and they were able to teach us so much." The MDC students also painted two murals in a kindergarten and third-grade classroom, leaving the children with encouraging and positive messages to remember.
"This experience is immeasurable beyond words," said Malou C. Harrison, president of MDC's North Campus. "Such enriching and life-changing, real-world learning experiences bring our global curriculum to life and provide meaningful opportunities for our students that will remain with them for the rest of their lives."
— MR
More Features Articles