---
Cultural Spotlight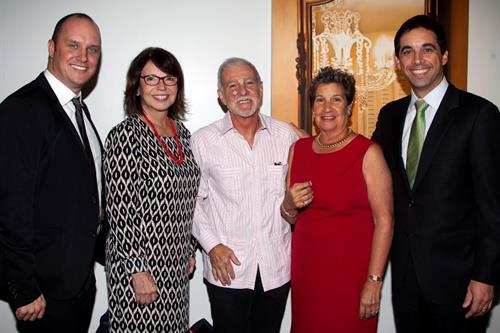 50 Years of Recognizing Greatness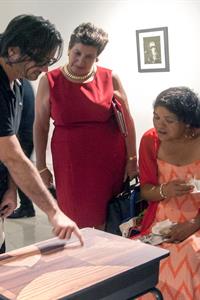 CINTAS finalist Carlos Rigau visited with CINTAS President Hortensia Sampedro, center.
Celebrating its 50th year as one of the foremost supporters of individual artists in the United States, the CINTAS Foundation recently announced its annual fellowship winners and honored one veteran artist with a Lifetime Achievement Award in Visual Arts.
The jubilee celebration took place at the MDC Museum of Art + Design during the opening exhibition of the CINTAS Foundation Fellowship Finalists Exhibition in Visual Arts, which featured the works of finalists Juan Carlos Alom, Ray Azcuy, Ivan Cañas, Lisa Danker, Ivan Depeña, Becky Franco, Coco Fusco, Lourdes Perdomo, Lisette Poole and Carlos Rigau.
Prestigious Awards
This year's fellowships recognized artists who advance their fields with impactful contributions to the visual arts, music composition and creative writing. Funded with support from the John S. and James L. Knight Foundation, the CINTAS Knight Fellowship in the Visual Arts went to interdisciplinary artist Coco Fusco. Known for works exploring politics, gender, race, war and identity, Fusco has exhibited and performed around the world. In addition to being selected the CINTAS Knight Fellow, this year she is also MIT's MLK Visiting Scholar.
The CINTAS Fellowship in Creative Writing was awarded to Carmen María Machado, a critically acclaimed author living in Philadelphia. She won the 2011 Richard Yates Short Story Prize and was awarded a 2014 Millay Colony for the Arts residency.
CINTAS' Brandon Fradd Award in Music Composition went to Yalil Guerra, who took home the 2012 Latin Grammy in the "Best Classical Contemporary Composition" category for Seducción.
Honoring a Legend
A Lifetime Achievement Award in Visual Arts was presented to painter Rafael Soriano, a major contributor to the tome of Latin American art.
"The CINTAS Foundation helps foster the next generation of talent by providing recognition and funding to emerging artists at a critical time in their artistic development," said Dennis Scholl, vice president of arts for the Knight Foundation.
— MR
More Cultural Spotlight Articles