---
Features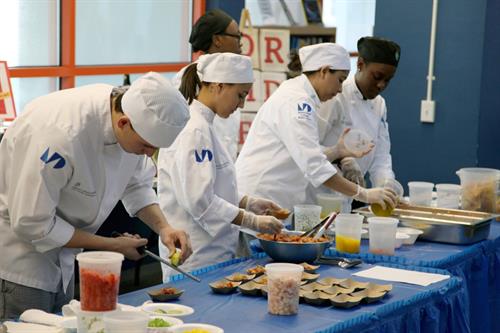 Turning Up the Heat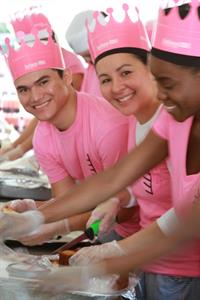 MDC's Miami Culinary Institute recently served 1,000 cancer survivors at the 2014 Susan G. Komen Race for the Cure.
MDC's celebrated Miami Culinary Institute (MCI) continues to grow by leaps and bounds, welcoming its largest group of new students yet with this fall's incoming class. The total number of seats taken at the Institute has grown 250 percent with more than 1,600 enrolling in courses since 2010, when the state-of-the-art facility opened.
Students have flocked to the Institute for its celebrated educational environment, stellar courses, unique learning opportunities, seasoned faculty with impressive industry experience, and exceptional facilities that include world-class kitchens and labs, and a student-run café.
Sharing Their Talents
As MCI's top reputation spreads, a growing number of community organizations are reaching out to seek the talents of its students, from festivals and fundraisers to culinary events and competitions. Students racked up more than 8,300 hours of volunteer work last year and are on track to beat that stat this year. Most recently, nearly 75 students volunteered last month at Miami's Susan G. Komen Race for the Cure to provide breakfast for cancer survivors – serving more than 1,000 participants.
"In just a few short years, the Miami Culinary Institute has established itself as a world-class program that produces highly skilled and professional students," said Collen Engle, interim department chair. "As a result, there is no shortage of community partners seeking the services and talents of our students, and we are more than happy to do our part to contribute to great causes and events in the local community."
Student Engagement
Students also will be tasked with staffing and preparing sumptuous dishes for the Miami Book Fair International hospitality tent, which will serve hundreds of authors throughout the eight-day event. They also presented cooking demos centered around Hispanic food and wines at three MDC campuses as part of the College's Hispanic Heritage Month celebrations.
"Through these demonstrations, we are able to really educate our students about foods that are traditional to the regions of Latin America and also get them excited about the Miami Culinary Institute," said instructor José Casals.
— AMS
More Features Articles