---
Features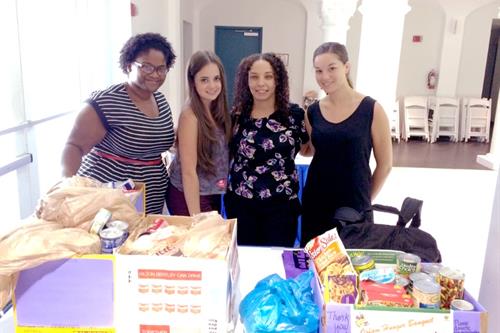 A Heartfelt, Local Approach to Global Citizenship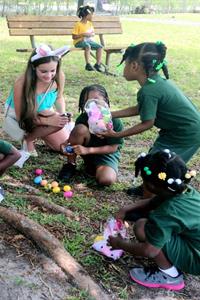 MDC Honors College student Monica Bustinza, in bunny ears, organized an Easter egg hunt for children.
Youthful idealism often inspires charitable work as humanitarian ideals begin taking root. This was the case for MDC's Honors College student Monica Bustinza, who started a charitable program after being inspired to give back to her community.
"As a child, I would hear my mother talk about the children at the school where she taught," said Bustinza. "I was shocked to learn that things I took for granted – like eating on a daily basis – were a luxury for other kids in our community."   
That realization prompted her to find a way to help.
"By age 16, I could no longer bear the stories of broken homes and hunger without feeling a sense of duty," said Bustinza. 
Motivated to act, she started Meals From the Heart to address hunger and malnutrition in her Miami Gardens community.
Helping Thousands
Meals From the Heart organizes food drives, then distributes bags of food to those in need. Since its inception in 2011, it has sponsored more than 1,000 families by packaging and delivering 2,000 meal bags. The impressive impact that this work has had in the community attracted media interest from local affiliate NBC 6 as well as national news organizations.
To inspire her peers to similar good deeds in global citizenship, Bustinza collaborated with MDC's Institute for Civic Engagement and Democracy to offer workshops on event organizing. Along the way, her service learning efforts led to her being named a Stephen J. Brady STOP Hunger Regional Honoree and receiving a Certificate of Appreciation from Miami-Dade County's Office of the Mayor and Board of County Commissioners. She also was tapped last spring to be a guest speaker at the Hunger Banquet at MDC's Wolfson Campus.
Power in Numbers
Despite the local and national recognition, Bustinza remains very clear about the group effort that is required for the success of Meals From the Heart.
"I can assure you that this project would not have been possible without the help of my family, friends and mentors," she said. "We are thinking globally while acting locally, but Meals From the Heart won't be able to continue without the support of others in our community."
— NN
More Features Articles