---
Features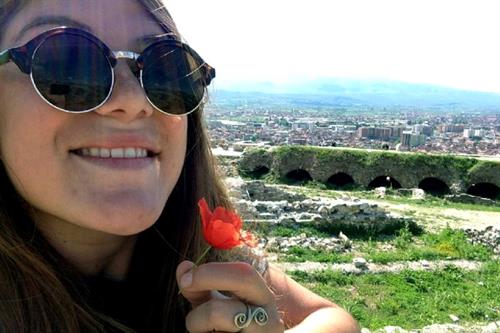 From Bulgaria to Boston, and 10 Countries in Between
An adventurous spirit and charitable mindset can lead young idealists in exciting directions. In the case of MDC Honors College graduate Nicole Bouza, her commitment to helping others put her on the path to international exploration. 
"I've always had a heart for volunteer work," said Bouza. "Once I graduated from MDC, I felt inspired to act on my desire to be involved in mission work."
A Year of Helping Others
After completing an associate degree at Wolfson Campus and focusing her coursework in business administration, Bouza was all set to pursue a bachelor's in social entrepreneurship at Babson College in Boston. But in a nod to her bold nature, she deferred her acceptance to embark on a backpacking mission trip, visiting 11 countries in 11 months.
In that short time, she volunteered in orphanages in El Salvador and Honduras, taught English in Thailand and Cambodia, and worked with women in Zambia and Malawi. She also lent a hand in Albania, Bulgaria, Guatemala, Malaysia and Mozambique, engaging in a variety of important volunteer efforts with children and the elderly.
Back to the Classroom
Once her mission work is complete, Bouza won't lose a moment to jump right back into her studies, continuing her education starting with the new year in January. 
"Babson College delayed my acceptance until after I returned because of their love for MDC and everything I was doing," Bouza said.
Her time at MDC served as a training ground for a lot of the skills she uses today. While at MDC, she worked on the Student Allocation and Programming Board, a position that strengthened her leadership qualities. Among the goals that she hopes to accomplish in the future is establishing a company to help women around the world.
Through all of her past and present work, she has been sustained by family, friends and the lessons she learned at MDC.
"My professors, directors and mentors all became family to me," she said.
Above all, she is thankful that she was encouraged to spread her wings.
"MDC was such a magical time in my life," she said. "The Honors College pushed me outside of my comfort zone when it came to my studies. It made me realize just how much I had to offer."
— NN
More Features Articles