---
Features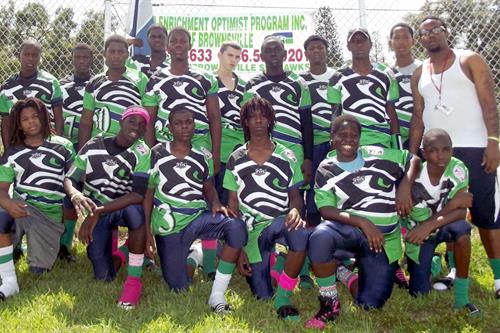 A Mentor on the Field and in the Classroom
With the mission of changing lives through the opportunity of education, Miami Dade College makes an impact one student at a time. In the case of North Campus student Jermaine Buckshon, that mission has transformed not only his life, but also the lives of a whole team of young men.
A former high school running back, Buckshon works as head coach and commissioner at the Youth Enrichment of Brownsville Program Inc., which forms a part of the Brownsville Seahawks, a team in the Florida Youth Football League (FYFL).
Buckshon, a Miami native and graduate of Miami Senior High School, recruits and mentors kids who play in the FYFL. In addition to teaching them the game, he coaches them on how they can attain a better education.
"The FYFL motivates, mentors and teaches, and it gives kids the tools and knowledge to become great future leaders," said Buckshon.
Inspired by Family and MDC
The FYFL began in 2011 with eight teams and has since grown to include 18. Buckshon has coached in the league for two years, and cites his mother, Sandra Buckshon, as being the main inspiration behind his decision to get involved with the FYFL. He also credits TRIO Student Support Services Director Carlton Daley with motivating him to give back and help the youth in his community.
"Miami Dade College taught me how to stay focused and to dedicate myself to my goals," said Buckshon. "MDC also helped me to be more effective in business, lessons I've applied while working in the League."
Never Too Busy to Give Back
Having already earned an associate degree with coursework in physical education, coaching and teaching, Buckshon currently is working toward an MDC bachelor's degree in supervision and management. He balances his studies with his responsibilities at the FYFL because he recognizes its value.
"This league is important because it gives kids the opportunity to showcase their talent," said Buckshon. "It gives kids a place where they can be themselves and have fun. Eventually we want to become the No. 1 youth football league in all of Florida."
— NN
More Features Articles