---
Features
Great Expectations Yield Research Rewards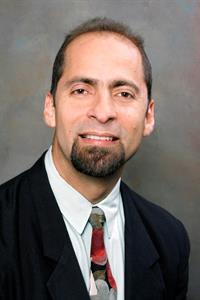 Biology Professor Dr. Edwin Ginés-Candelaria.
MDC Biology Professor Dr. Edwin Ginés-Candelaria has faced some challenges en route to becoming a distinguished scientist and professor. But an easygoing demeanor and velvet glove approach to teaching disguise his inner mettle and serve as a model for the steadfast determination his students will need to excel in the high-powered world of research.
"I give students lots of autonomy to build their confidence," said Ginés-Candelaria, who was born and raised in San Juan, Puerto Rico. "I want them to be happy with the work they're doing, but I also have big expectations for them."
Those tough standards are paying off, with some of his students already receiving recognition abroad by having their work shown in the poster presentation division of the Gram Positive conference in Montecatino Terme, Italy, last year.
Unique Undergrad Experience
"These students had their names included in this international scientific conference, representing Miami Dade College, which is an outstanding accomplishment," Ginés-Candelaria said. There is also the possibility that some of them will see their names on a paper published in a scientific journal, a rare coup for undergraduates.
The research focuses on an anaerobic bacterium, originally isolated from Crimean silt, called Clostridium taeniosporum. The work Ginés-Candelaria and his collaborators at University of Texas at Austin are doing could have significant ramifications. Clostridium taeniosporum is not dangerous, although its close relative, Clostridium botulinum is.
Powerful Potential
"How this bacterium, which forms spores bearing ribbon-like appendages and which is closely related to pathogenic and toxigenic Clostridium botulinum, ended up not being toxigenic is one of the things we are looking at. There is the potential to use it to create vaccines, for instance, or for other beneficial medical purposes," Ginés-Candelaria said.
The students at Miami Dade College have been participating in this high-level project by helping annotate the organism's genome. They have also received training in how to use bioinformatics software to answer questions related to this organism's phylogeny.
"They're doing the equivalent to graduate-level work here at MDC," said Ginés-Candelaria.
"These are talented students, and they are eager to learn. When students are excited about a project, they accomplish wonderful things."
More Features Articles