---
Features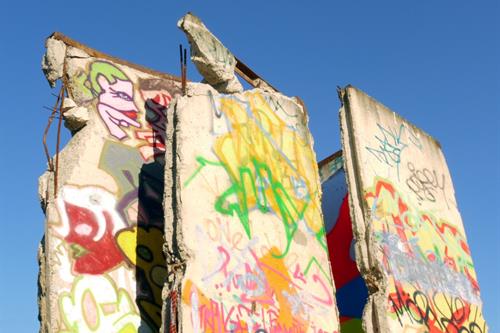 Preserving the Spirit of Freedom
Walking the walk as "Democracy's College" in each and every one of its endeavors, Miami Dade College marked the 25th anniversary of the fall of the Berlin Wall on Nov. 9 by unveiling a special gift from the Republic of Germany – a section of the Berlin Wall. The massive 2-ton segment now has a permanent home at MDC's Wolfson Campus.
City of Miami Mayor Tomás Regalado and Consul General of Germany in Miami Jürgen Borsch stood alongside MDC President Eduardo J. Padrón in dedicating the wall section to commemorate the legacy of those who won the fight against communist oppression in the former East Germany during the Cold War, as well as to recognize those who continue to fight for human rights around the world today.
Constructed by the then-Soviet Union in 1961 to separate communist East Berlin from democratic West Berlin, the Berlin Wall stood until 1989 when it was metaphorically toppled by mounting internal and global pressure, and then memorably torn down in dramatic jubilation by an exasperated populace that would no longer stand for the separation that the Wall effected and the injustices it prolonged.
Remnants of the 155-kilometer wall have been placed throughout the globe to mark the resilience and triumph of the human spirit. As a perennial advocate for human rights and freedom at home and around the world, MDC will serve as the ideal steward for this important commemorative landmark and keep alight the memory of triumph that it represents for generations to come.
— MR
More Features Articles