---
Academics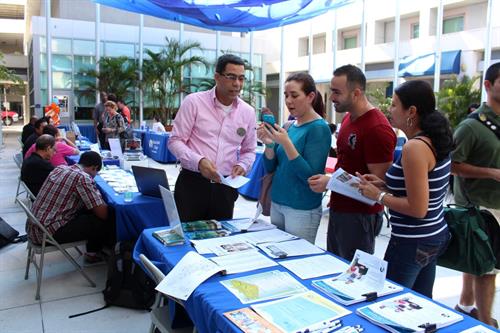 Buddying Up for Better Grad Rates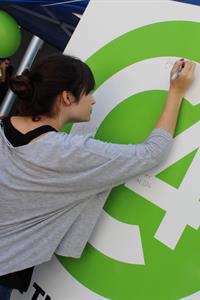 An MDC student signs her name in support of the C4 effort to encourage students to commit to completing their degrees.
Community college students tend to face a wider variety of obstacles to finishing their degrees: financial limitations, work demands and childcare issues, among others. Through a recent event at MDC's InterAmerican Campus, students of its Phi Theta Kappa Honor Society took steps to enable other students to get the help they need to stay on track for graduation.
Joining forces with Community College Completion Corps, aka C4, PTK members set up booths where representatives spoke to students about the many services available to them at MDC's various departments, including Financial Aid, Students Services, Learning Resources and Career Services, among others.
"We were inspired by the College President's Student Leadership Retreat" held at the beginning of the 2014 fall term, said Pierre Carrión, PTK president at MDC's InterAmerican Campus. "We learned about methods MDC is using to help students succeed in getting their college degrees and the investment of resources that it is making in this area. However, there's still room for improvement, so my fellow PTK leaders and I decided to help improve graduation rates through this project."
PTK members also urged peers to sign pledges committing to finishing their degrees and encouraged those who did so to continue the good work by asking someone else to make the same promise.
"The idea is to instigate a buddy system by which students check up on each other," said Professor Diego Tibaquirá, who serves as faculty advisor to PTK at InterAmerican Campus. "To have a peer who knows your goals ask you periodically, 'Hey, how are things going?' builds a system of accountability."
— MR
More Academics Articles