---
Academics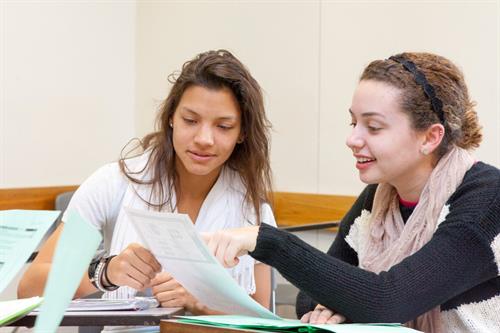 MDC's Very Own Vampire Diaries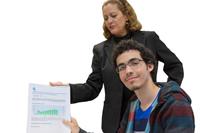 Professor Carola Pedreschi and Honors College student Ariel Gutiérrez reviewed the survey results.
To vanquish some vampires, you need a steady hand, an iron will and the proverbial wooden stake. But to dispatch the energy-sucking vampires in your home? Flipping a switch will do.
"Vampire" is a moniker used to describe electronic devices – like gaming consoles, flat screen TVs, computers and printers – that continue to consume energy when not in use. Even in so-called standby mode, these components burn what is referred to as phantom energy, which can make up 10 percent of a household's electric bill. Multiply that by millions of American households and you get wasted money, wasted energy and higher carbon emissions.
SENCER-izing Students to Vampires
Enter MDC Professor Carola Pedreschi, who is implementing sustainability and Earth literacy into her Honors College courses in psychology at North Campus. The Global Sustainability and Earth Literacy Studies (GSELS) Climate Change and Home Energy Consumption Project shows students how they can empower themselves to help the environment while saving money at the same time. An initiative of the Earth Ethics Institute, the program is part of a Science Education for New Civic Engagements and Responsibilities (SENCER) program at MDC, for which the College received a prestigious grant from the National Center for Science and Civic Engagement (NCSCE).
Pedreschi and the Honors College class first discussed climate change and its connection to fossil fuel consumption. Students then took a home energy consumption survey and developed a plan that included behavioral changes focused on power usage. Their energy savings were calculated after 30 days.
Money in the Bank
The results? In just one month, the 22 student households that participated saved $1,536.40, for an average of about $56. This annualizes to $675 for the year – no small sum for a few tiny tweaks in their behavior patterns. On the energy side, the students saved around 13 megawatt-hours of electricity, keeping 13 tons of carbon out of the atmosphere.
"My family was very open to the project, and we saved $100 in just one month," said Nina Ortiz, a freshman whose career track currently includes political science and business. "It's a significant change, and we plan to keep it going forward."
Some of the attitudinal and behavioral changes were easier than others. Turning down the temperature on a water heater, for instance, or upping the thermostat on an air conditioner just required a one-time fix. But other elements of the plan involved new lifestyle routines, such as remembering to turn off a flat-screen display, or shutting down the cable box when not in use.
Beware of Gung-Ho Grandma!
"Modifying those ingrained behavior patterns was the psychology segment of the course," Pedreschi noted. "How do you address habits, and how do you work with people of different generations and ethnicities? One grandmother was so gung-ho she accidentally unplugged the refrigerator when she meant to unplug something else!"
Pedreschi and her students will be working with North Campus Student Life Director Evelyn Rodríguez to multiply these impressive results throughout the entire campus.
"That's the SENCER component of the project," said Pedreschi, "empowering students and spreading the knowledge."
More Academics Articles