---
Powerful Partnerships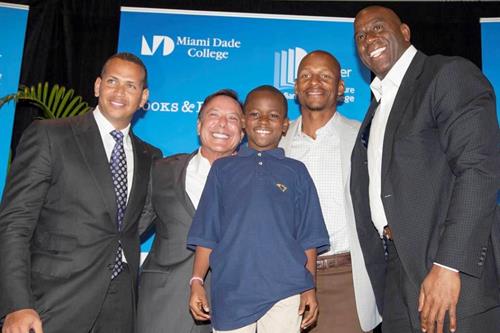 Words From the Wise
In a dynamic event packed with energy and love, health care entrepreneur Mike Fernández visited Miami Dade College's Wolfson Campus, along with his friend, business partner and NBA legend Earvin "Magic" Johnson, to discuss his new book, Humbled by the Journey.
One of Miami's most successful business leaders and civic contributors, Fernández's engaging memoir is part self-portrait and part adventure story. From his modest beginnings as a penniless Cuban immigrant to his current status as a self-made mogul, health care industry leader and philanthropist, Fernández had many pearls of wisdom to share with the hundreds of excited attendees who filled the Chapman Conference Center and Wolfson Auditorium.
The engaged audience was further star-struck when former Miami Heat player Ray Allen and baseball great Alex Rodríguez made a surprise appearance on stage alongside Fernández and Johnson.
Proceeds from book sales will go to The Early Childhood Initiative Foundation, a nonprofit focused on making affordable, high-quality health, education and nurturing available to children from birth to age 5.
— NN
More Powerful Partnerships Articles