---
Powerful Partnerships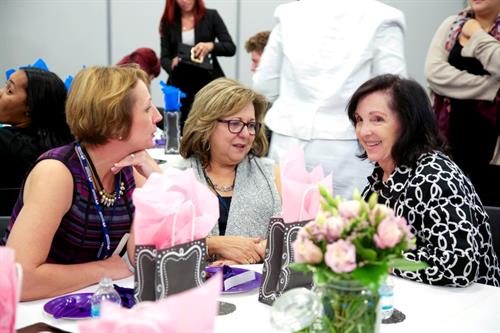 Motivated by a Cause
Cancer is an equal opportunity disease. It can strike regardless of age, but perhaps no demographic receives less attention than those between the ages of 18 and 29.
"They think of themselves as young and invincible, but of course they are vulnerable as well, and outreach and awareness campaigns to them are often overlooked," said Professor Emeritus Barbara Rosenthal, who brought her decades of  experience back to the MDC classroom this fall by teaching a course in business principles.
Inspired by what they learned, students in her class recently decided to take action to inform their peers. Partnering with the American Cancer Society (ACS) and the Relay For Life of East Kendall (RFL), they designed the Erase Cancer project to heighten awareness of the illness among adults under 30, while raising funds for an important cause. The capstone event took place on Dec. 3 with all proceeds going to ACS.
Seeing the Whole Picture
"We are taking a holistic approach." Rosenthal explained. "We had a client presentation from the ACS and RFL then divided the class into groups to tackle different aspects of the project."
The team specializations included philanthropy and social media, communications, event planning and visual arts. Working together in symbiotic harmony, the students raised $2,500 for ACS through personal and business pledges and ticket sales for a comedy show and drawing that included community donations of an HP Tablet, hotel stay and gift cards. The students announced at their formal presentation that almost 50 percent of them formed a team to represent MDC in the March 14 Relay For Life.
The work took on personal significance for the students, as some have relatives who are currently battling cancer.
Speaking of her experiences in the class, student Chloe Mari said, "This project introduced me to several courageous individuals. Their stories of strength and hope not only moved me deeply, but also showed me that cancer awareness can be helpful."
Beyond Making a Profit
Noting how students developed over the semester, Rosenthal said, "This project is important in terms of social responsibility, but it's also very beneficial academically. Students worked with five of the 10 Learning Outcomes at the core of an MDC education, including quantitative analytical skills, communicating effectively and others."
The project also changed the perspective of some community members about the involvement of young adults in civic engagement.
"We often think of students as being cool and guarded," Rosenthal said, "but internally they are very passionate, and because of the circumstances, they were keenly devoted to this project."
To see a video the students created, go to tinyurl.com/erasecancer.
More Powerful Partnerships Articles