---
Powerful Partnerships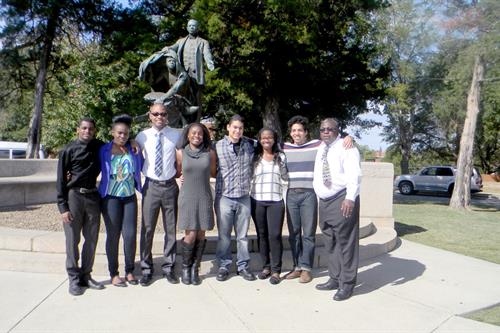 The Million Dollar Connection
Paying for a university degree can be financially draining. However, thanks to golden connections and stellar academic records, Miami Dade College alumni now at Tuskegee University are reaping the benefits of scholarships that are making their dreams of higher education come true.
Since MDC formed an articulation agreement with the prestigious Historically Black College and University (HBCU) in 2009, Tuskegee has invested more than $1 million in scholarship funds for MDC alumni. Established in 1881, Tuskegee has a rich academic tradition renowned for its strong programs in the sciences, architecture, business, engineering and health.
Tuskegee is just one of the more than 70 prestigious universities nationwide and internationally that have established agreements with MDC to provide a seamless path for transferring students.
Tradition Builds
To date, seven MDC students have graduated from Tuskegee with their bachelor's degrees since the inception of the articulation agreement, and currently nine Tuskegee University Distinguished Presidential Scholarship Award winners are attending classes there this 2014-15 academic year.
This outstanding award provides scholarships every year to three students transferring from MDC who have a cumulative GPA of 3.5 or higher. Included in the scholarship are full tuition, room and board for two years, as well as $800 for textbooks.
Hope for the Future
"Attending Miami Dade College was an amazing opportunity and receiving the scholarship for Tuskegee University offered great hope," said Royan Reddie, one of the scholarship recipients. "There's hope not only for myself, but also for my family members who never had the chance at having a good education."
The genesis of the MDC articulation agreement with HBCUs began in 2006 with the work of Fredric Toney, assistant director of Academic Advisement at MDC's North Campus.
"The Tuskegee University/Miami Dade College Articulation represents the gold standard of what an effective articulation can accomplish," said Toney. "The admissions administrators at Tuskegee are so pleased with the academic progress and success of MDC students that they ask me to send more because they have transfer scholarships they'd love to award."
The academic and professional growth of MDC's transfer students has been impressive, and translates into benefits for the whole community when these hard-working adults finish their degrees and return home.
"I can't wait to positively impact my community when I finish this journey," Reddie said. "For me, this scholarship has been a life changer. I am now one step closer to realizing my dream of helping the medically underserved."
— NN
More Powerful Partnerships Articles