---
Powerful Partnerships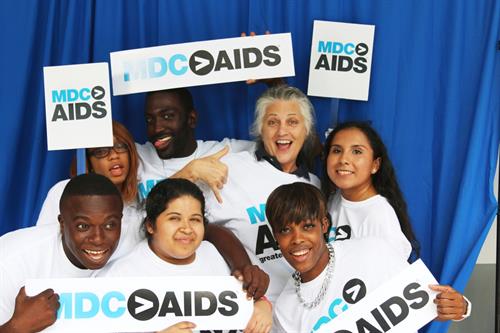 Knowledge Is Power in Overcoming AIDS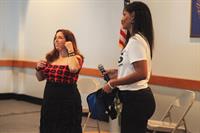 Activist River Huston, left, offered insights at the keynote presentation.
Miami Dade College commemorated World AIDS Day on Dec. 1 with the launch of , a campaign to increase knowledge, confront stigma and promote actions that prevent the spread of HIV/AIDS.
Miami-Dade County currently has the highest number of new HIV and AIDS cases in the state of Florida. In response to this statistic, Miami Dade College's Student Government Association (SGA) mobilized the student body to raise awareness.
Each of MDC's campuses provided counseling and testing, informational packets and presentations by people living with HIV/AIDS. SGA members also served as HIV Testing Ambassadors by encouraging students to get tested, in addition to actively participating in keynote presentations, resource fairs and workshops.
One of the main features of the day's events was a one-woman show by River Huston, an award-winning poet, journalist, performer and activist who has lived with HIV/AIDS for more than 30 years. 
Performing to a packed auditorium, Huston offered an unfiltered take on her experiences living with two terminal illnesses (HIV and a rare bone marrow disease), dating, marriage, divorce and financial ruin.
"In addition to being funny, the performance was very informative, impactful and empowering," said Nicole Bryant, Student Life director at Homestead Campus. "Students were touched by her story of survival and the cognitive decision she made to live and laugh in the face of AIDS."
The  collegewide initiative was presented in partnership with Greater Than AIDS, an organization created in 2009 and dedicated to increasing awareness of the deadly disease.
"More than 1,800 students participated in events held across the different campuses, and about a third of those students got tested," Bryant said.
— NN
More Powerful Partnerships Articles