---
Powerful Partnerships
The Investment of a Lifetime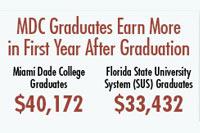 MDC bachelor's graduates earn more right after graduation than grads from the state university system.
With alarm bells sounding nationwide on student debt, the return on investment (ROI) of a bachelor's degree has emerged as an important consideration among degree seekers and as a barometer of success for higher education institutions. Combining quality, affordability and programs targeted to workforce needs, Miami Dade College's bachelor's degrees provide graduates with exceptional ROI, as evidenced by a recent study of state data by College Measures, an organization that analyzes publicly available data on college performance.
MDC bachelor's graduates make more in their first year after graduation than their counterparts from Florida's State University System (SUS). Median first-year earnings for an MDC baccalaureate graduate are $40,172. This is 17 percent higher than those of a baccalaureate SUS graduate, whose median first-year earnings are $33,432.
The yields of a college education last a lifetime. However, without a financial strategy, so, too, can the debt. Fortunately, MDC graduates not only make higher incomes after graduating, but they also do so with little to no student loan debt. Only 10 percent of MDC students take on student loans thanks to the College's low tuition. In 2011-12, MDC students took out an average $3,489 in federal loans whereas students at Florida public universities took out an average federal amount of $5,866. This is especially remarkable taking into account that 66 percent of the College's student body is considered low-income and also that 46 percent live below federal poverty guidelines.
"Bachelor's graduates from community colleges are doing as well as their peers with university degrees, at least in Florida. And community college graduates usually paid far less for their education," College Measures President Mark Schneider recently told Inside Higher Ed. To see the report, visit www.collegemeasures.org.
— MR
More Powerful Partnerships Articles