---
Making Their Mark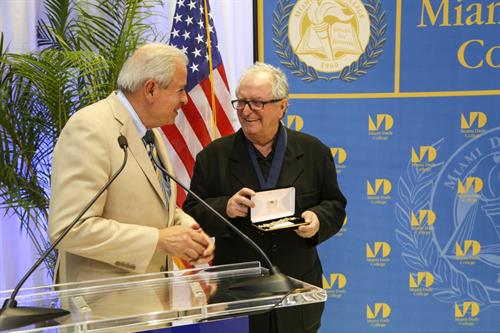 Chef Juan Mari Arzak Honored at MDC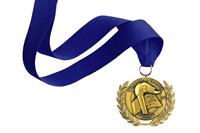 The Miami Dade College Presidential Medal
Earlier this spring, Miami Dade College welcomed world-renowned Spanish Chef Juan Mari Arzak, whose restaurant in San Sebastián has held three Michelin stars since 1989. Miami Dade College President Dr. Eduardo J. Padrón presented Chef Arzak with a Presidential Medal in recognition of his lifetime achievement as an innovator in the culinary arts across the globe.
Chef Arzak is considered the greatest master of New Basque Cuisine. His restaurant, which he runs with his daughter, Elena, has been in the top 10 of the World's 50 Best Restaurants since 2006. In 2008, he was appointed as "Universal Basque" by the Basque Autonomous Government. Not long after this recognition, he received a Lifetime Achievement Award from World's 50 Best Restaurants in 2011. Chef Arzak was honored with the Knight of the Order of Arts and Letters by the French Ministry of Culture. He also received the Gold Medal of the City of Donostia and the Gold Medal of the territory of Guipúzcoa. Other outstanding recognitions include the Gran Premio del Arte de la Cocina for Best Chef in Europe and the International Award of Honor by Trophée Gourmet.
MDC's Presidential Medal has been awarded to leaders and luminaries from across the world for their impactful contributions to humanity. Past recipients include U.S. President Bill Clinton, former Polish President Lech Walesa, former U.S. Secretary of State Madeleine Albright, Cuban dissident blogger Yoani Sánchez, award-winning author Maya Angelou, Czech dissident Václav Havel, and former Soviet Union General Secretary and Nobel Peace Prize-winner Mikhail Gorbachev, to name a few. For a video in Spanish about the event at Miami Dade College, go to tinyurl.com/ArzakMDC.
More Making Their Mark Articles