---
Making Their Mark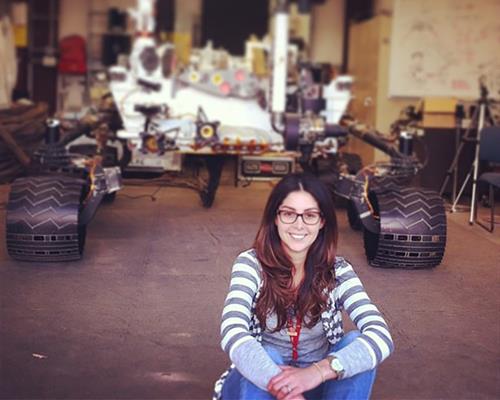 Her Martian Adventure
MDC alumna Diana Trujillo, who works as a mission lead for NASA's Mars Curiosity Rover, is constantly reaching for the stars.
While Trujillo, 32, and her team study the Red Planet, she has an even bigger goal for her future: She wants to be an astronaut.
And as daunting as that challenge may be, Trujillo has become accustomed to defying the odds. After all, she earned a prestigious job with NASA despite being born and raised in Colombia, where a national space administration has yet to be created.
For that reason, outer space was seemingly out of reach for Trujillo, who grew up dreaming about the planets and wondering if we were indeed alone in the universe.
Her future shifted on its axis when her wise father Eduardo – an accountant by trade – suggested she learn a second language and offered to send her to Miami, where she had an aunt.
Early Hurdles
The lure of the U.S., the country that landed the first man on the moon, was enough to intrigue the 17-year-old Trujillo, who landed in Miami with $300 in her pocket and no knowledge of English. Soon after her arrival, she enrolled at MDC, embarking on six bus rides a day to get to and from Kendall Campus.
While studying English at MDC, Trujillo's imagination truly soared when her astronomy professor mentioned that she knew an astronaut personally.
"My mind was blown," Trujillo said. "That was crazy to me. I thought: 'I'm one person away from knowing an astronaut.' "
Up until that point, the closest Trujillo had come to an astronaut was watching the TV show I Dream of Jeannie, translated into Spanish back home in Cali, Colombia.
Keeping Her Dream Alive
She never actually met the astronaut who was a friend of her professor, but it didn't matter. Just knowing that he existed in such close proximity to a person she knew was enough to push her even harder toward her dream career.
She ended up studying space science at MDC and went on to major in aerospace engineering at the University of Maryland, graduating in 2007.
Now she leads a team of 45 engineers at NASA, a career that blasted off from the rocket-launcher known as MDC.
— WV
More Making Their Mark Articles