---
Making Their Mark
Fueled to Action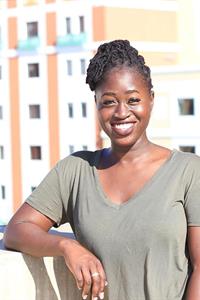 Humanitarian missions drive Makisha Noel to excel as a social entrepreneur.
Since arriving at MDC in 2011, Makisha Noel hasn't stopped for a moment. She has cultivated a garden to help feed the hungry still displaced by Hurricane Katrina in New Orleans, studied French in France and helped build a school in Guatemala.
In addition, she served as a U.S. liaison in Turkey, sharing her leadership skills with young students from North Africa and the Middle East. And she helped teach business and marketing to teenagers in Botswana.
"Although I went as a teacher, I left as a student," Noel, 23, said of her experience in Botswana. "I learned the value of being resourceful with the tools that you have."
Noel has taken those lessons on resourcefulness to heart. At MDC's Wolfson Campus, when she first heard a guest speaker talk about being a "social entrepreneur," she didn't know anything about the concept. But the more she listened, the more she knew this is where her life was heading.
"That's when I discovered I could make a career out of my passion for giving back to others," said Noel, who graduated from North Miami Beach High in 2011. That summer, when she stepped onto MDC's Wolfson Campus for the first time, her life was transformed.
On one of her first days on campus, she saw a poster that asked: "Do you want to be America's next top role model?"
Without hestitation, her answer was an emphatic "Yes!"
She soon became a mentor and coordinator for events and outreach for Strong Women Strong Girls, a nonprofit dedicated to helping young girls become powerful forces in their communities and in their own lives.
Noel, a proud Haitian-American, also mentored students in low-income communities.
"Haitians are known for our vibrancy and boldness, and I finally began to tap into that cultural gift through service to others," Noel said. "I became a trailblazer as a young Haitian-American woman striving to make a difference in Downtown Miami."
Noel, a member of the inaugural class of the American Dream Scholarship program at MDC, admits she was once "beyond shy," making it very uncomfortable for her to talk in groups. But thanks to the many programs, advisors and professors she was exposed to at Miami Dade College, she has found her unique voice.
"Before I came to MDC, I did not possess the confidence to bring a group of people together," said Noel, who plans to earn an MBA before launching her career in public service, international development and social entrepreneurship.
"Today, my friends describe me as an idealist fueled to action."
— WV
More Making Their Mark Articles