---
Features
Grad Student Brings Up the Bottom Line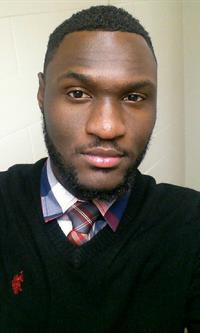 MDC alum Stevens Bonhommen is working toward a Ph.D. in applied economics at Western Michigan University.
A look at the numbers says it all: Stevens Bonhomme is on the fast track to success. The 25-year-old, who left his native Haiti just three years ago, already has earned two college degrees and is working on a third.
In 16 months, Bonhomme completed an MDC degree with a focus in economics, finished a bachelor's at Tuskegee University graduating Summa Cum Laude, and has begun graduate studies at Western Michigan University, where he is working toward a Ph.D. in applied economics.       
Bonhomme, whose native languages are Creole and French, taught himself English upon arriving in Miami.
"I studied words in the dictionary, and I listened to people speak," said Bonhomme, who writes poems and novels in French and also plays the flute, trumpet and clarinet.
Bonhomme said scores of people at MDC's North Campus went out of their way to assist, motivate and encourage him, including professors like Myra Medina-Cabral and advisors Danie-lla Pierre, Miguel Murphy and Suze Guillaume, along with Career Services Director Fredric Toney.
"The fact that I was at MDC meant I was around a diverse group of people who all helped me learn English," said Bonhomme, who served as a Student Government Association senator, vice president of the Haitian IBO Club, and a member of the Brain Bowl, Phi Theta Kappa Honor Society and Alpha Mu Gamma foreign language honor society. "Everyone at MDC was there for me and made me the person I am today."
Bonhomme saw devastating poverty in Haiti. He was in Port-au-Prince when the massive 2010 earthquake hit, killing more than 100,000.
"I lost a few friends and people I was close to," Bonhomme said. "It was terrifying."
Witnessing hunger, misery and suffering is the main reason why he's studying economics so that he can one day return to his home nation and serve as Haiti's Minister of the Economy.
But his ambition doesn't end there.
"I want to be Haiti's president," Bonhomme said. "I want to build financial stability for myself and my family, and then I want to do the same for my country."
— WV
More Features Articles