Campus History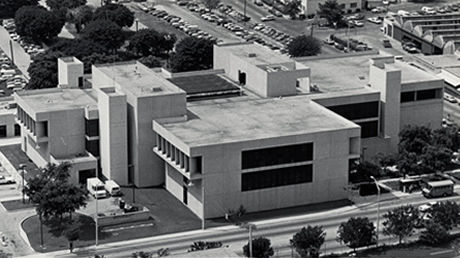 Origins
Miami Dade College, one of the 28 colleges in the Florida system of community colleges, began instruction in September 1960. In January 1966, a new occupational division (originally named the Division of Medically-Related Programs and later changed to the Division of Allied Health Studies) was established at and under the administration of North Campus. In July of the same year, the new division assumed direction of the ongoing Associate Degree Nursing program which had been initiated in 1963, with the first nursing class graduating in January 1965.
In addition to the nursing program, 11 allied health programs were initiated in August 1967 with a twelfth starting in August 1968. With the exception of one Planned Certificate program, all were Associate in Science degree programs. Seven of these original programs - medical laboratory technology, medical record technology, nursing, optometric technical sciences (currently included in vision care technology/opticianry), physical therapist technology, radiologic technology and respiratory technology - are still in existence. A 1400-square-foot Student Life building was added where students can go study, relax or be part of one of the many events.
Fred Ascher Allied Health Careers Building
In July 1971, a two-story, 43,713 square-foot educational complex adjacent to the Mount Sinai Medical Center of Greater Miami was completed and leased to Miami Dade College. The building, for which educational specifications were developed by the College, was constructed with funds provided by the hospital and a federal Allied Health Professions Construction grant. All programs with the exception of dental hygiene, vision care technology/opticianry and mental health technology were moved from North Campus to the new facility, called the Fred Ascher Allied Health Careers Building, with classes starting in August 1971. The facility was administered as an extension of the North Campus by the Division of Allied Health Studies.
Medical Campus Designation
The North Campus Division of Allied Health Studies was designated as an autonomous campus - the Medical Campus - in July 1974. Early in 1973, comprehensive detailed educational specifications were written for various technical laboratories by the respective allied health faculty specialists for a new facility. The new campus was to be located on a 4.3-acre site which was transferred by the Dade County Board of Public Instruction to the College in November 1967. The site, 950 Northwest 20th St., is located within the Medical Center Complex consisting of the University of Miami School of Medicine, county-operated Jackson Memorial Hospital, Veterans Administration Hospital, Dade County Public Health Service and other private and public health care facilities.
Working drawings and architectural specifications for the 124,910 square-foot, three-story facility were completed in November 1974, and construction for the $6.2 million building was started in March 1975. Upon completion of the building in March 1977, personnel and equipment were moved from the two interim locations - the Fred Ascher Allied Health Careers Building and North Campus - with classes starting in May 1977. A separate 2,217 square-foot building was completed in August 1980 to house the Medical Campus bookstore.