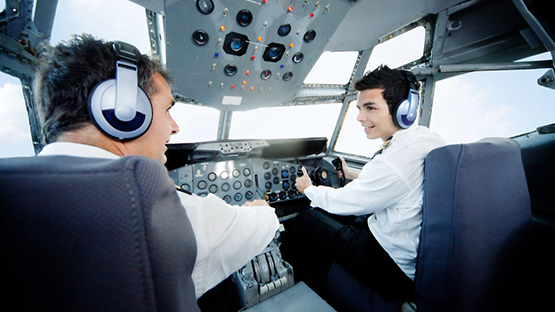 Program Overview
Imagine getting paid for doing what you love: soaring above the Earth, traveling the world and encountering different cultures. Whether you work for a commercial airline or in any number of other situations, a career as a pilot will open the door to the rest of the world for you.
Additional fees may be applied to cover costs associated with the Professional Pilot Technology program. Fees vary according to flight provider; however, they may be waived for eligible veterans. For further information Call 305-237-5900.
Program Details
Students in this program can work toward obtaining their Airline Transport Pilot (ATP) certificate. As an FAA-regulated Certified Training Program (CTP), under Part 141, we will be authorized to certify graduates of our program with a restricted privilege ATP certificate. The standard FAA requisite is at least 1,500 hours, but with an Associate in Science degree from our School of Aviation, that number is reduced to 1,250 hours of flight training (pending approval). Students also have the option to add an air traffic control (ATC) specialization.
Flight Training Devices (FTDs) or simulators are an excellent way for students to build the skills and training needed in aerial maneuvering and management. They allot students the ability to practice Cockpit Resource Management (CRM), to perform advanced flight capabilities, and to experience different modalities of weather patterns affecting flight performance in a cost-effective, more efficient manner.
Our modern, FAA-qualified simulator inventory includes both flight and tower technology. With licensed and trained professional instructors, our students are guided toward a path of success within the safety of a simulated, real-world environment.
There are added fees associated for the Professional Pilot Technology associate degree that are used to cover the costs of flying, including but not limited to fuel, instructor, and hangar fees.
Students must obtain their FAA Medical Certificate before taking their first flight.
Material covered in this program includes:
Aerodynamics
Multi-Engine Pilot Flight
Aviation Meteorology
Air Traffic Control Radar Procedures
Aviation Laws & Regulations
Career Prospects
Graduates of this program may pursue further studies and careers in these areas:
Pilot
Commercial Pilot
Airline Transport Pilot
Program Location