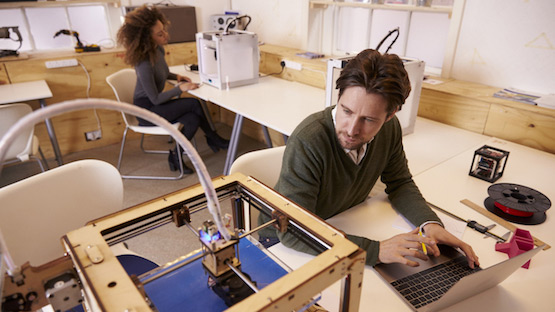 Program Overview
Rapid Prototyping (RP) can be defined as a group of techniques used to quickly fabricate a scale model of a part or assembly using three-dimensional computer aided design (CAD) data. Rapid Prototyping has also been referred to as solid free-form manufacturing, computer automated manufacturing, and layered manufacturing.
RP has obvious use as a vehicle for visualization. In addition, RP models can be used for testing, such as when an airfoil shape is put into a wind tunnel. RP models can be used to create male models for tooling, such as silicone rubber molds and investment casts. Using suitable material, highly convoluted shapes (including parts nested within parts) can be produced because of the nature of RP.
Program Details
Program areas of study include:
Laser Sintering
Solid Ground Curing
Stereolithography
Object Manufacturing
Fused Deposition Modeling
CAD Modeling
2D Modeling
3D Modeling
Career Prospects
Rapid Prototyping decreases development time by allowing corrections to a product to be made early in the process. By giving engineering, manufacturing, marketing, and purchasing a look at the product early in the design process, mistakes can be corrected and changes can be made in a relatively inexpensive way.
Students who pursue this course of study may find employment opportunities in job roles such as:
Rapid Prototyper
3D Modeler/Designer
Program Location